The alias of Los Angeles-based producer Ironfist is Nikki Manos. A distinctive and cinematic soundscape is created by the enticing and raspy vocals, reminiscent of Nick Cave, the hypnotic and dreamlike synths, and the firm foundation of Alt-Rock, Blues, and Country fusion. His music essentially writes a love letter to Westerns with elements of lo-fi and futuristic in its high concept universe.
The United States has depleted its natural resources as a result of a brutal civil war; water is now scarce and more valuable than gold.
In order to gamble for money, a group of outlaws poses as soldiers and enters the "Hot Zone" of the American West. One of them (Nikki Manos) must decide right from wrong when their mission takes a bad turn.
A genre-bending, action-packed meditation on redemption, Rebel's Twilight is a seamless cinematic listening experience. Check out this album and the latest interview below:
1. Can you tell us a bit about where you come from and how you got started?
NIKKI MANOS: I'm originally from Las Cruces, New Mexico, and until recently, I had been living in Los Angeles for 7 years until moving back to New Mexico
2. Did you have any formal training, or are you self-taught?
NIKKI MANOS: I'm a classically trained musician who also received a Bachelors and a Master's in Music Technology at Berklee College Of Music. That only counts with instruments, though and I taught myself how to sing over the pandemic.
 3. Who were your first and strongest musical influences, and why the name 'NIKKI MANOS'?
NIKKI MANOS: My first musical influence was my Grandfather. He played in a band in Vietnam while stationed there and went on to play in a band for 10 years in Rochester, New York. He's definitely one of my strongest influences, but with this project, in particular, Waylon Jennings, Black Sabbath, and Sturgill Simpson's versatility were a significant influence on me.
The Name Nikki Manos has two meanings; when abbreviated to NM, it's the shorthand for New Mexico, and the other is a combination of Nikki Sixx, and Manos is the nickname my uncle called me when I started DJ'ing.
4. What do you feel are the critical elements in your music that should resonate with listeners, and how would you personally describe your sound?
NIKKI MANOS: The critical element of Nikki Manos is atmosphere. My Album "Rebel's Twilight" plays like a Western movie and was inspired mainly by Italian "Twilight"  Westerns of the late '70s.
Nikki's story is about revenge and is a very classic Western trope of the drifter protagonist, but the story is also about redemption. Nikki lives in a dangerous and corrupt environment, and he has to make a decision to do the right thing in a world that expects the opposite from him.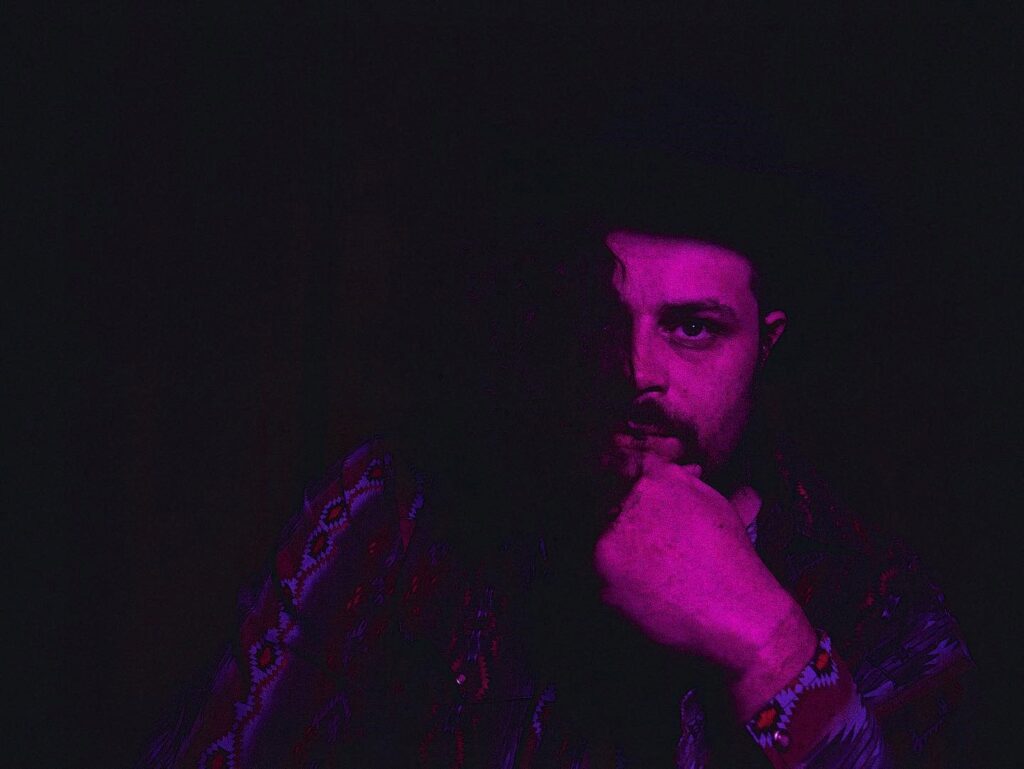 6. What's your view on the role and function of music as political, cultural, spiritual, and social views – and do you try and affront any of these themes in your work, or are you purely interested in music as an expression of technical artistry, personal narrative, and entertainment?
NIKKI MANOS:
Most of my music and many of the artists I work with believe in taking a stand against major global issues. The role of art is to use it to make the world a better place and not just focus on entertainment.  The central problem in "Rebel's Twilight" is that water has become scarce and is now more precious than gold. To be honest, I'm worried about our future on this planet because even if we can fix all of the hate and violence we have beetween ourselves, we still have a world that is being severely harmed by our imprint, and I'm not sure if we can fix it at this point.
7. Do you feel that your music is giving you back as much fulfillment as the work you put into it, or are you expecting something more or different in the future?
NIKKI MANOS:
Nikki Manos is different from anything I've ever done. The whole process of making a releasing this album helped me grow in ways I didn't expect. I'm always trying to make something better than the last one, and if the reception from people is positive, that's wonderful, but I'm trying to look forward.
8. Could you describe your creative processes? How do you usually start and go about shaping ideas into a completed song? Do you typically start with a tune, a beat, or a narrative in your head? And do you collaborate with others in this process?
NIKKI MANOS:
I always started with guitar and vocals for Rebel's twilight, then built the groove. I usually make electronic music, so I purposely made myself write acoustic ideas and then started to build demos around them. I wrote 18 demos to start and then refined them with my co-writer Dave Austin, who helped with the lyrics and lead guitar parts. Once we had the keepers that would end up on the album, I focused on making the songs feel like they exist in the same universe and built the narrative for the concept album around the songs. I then asked my favorite collaborators to remix and re-interpret the songs to get some outside perspective.
9. What has been the most challenging thing you've had to endure in your life or music career so far?
NIKKI MANOS:
I struggle with myself more than anyone else. I have never compromised my values, but the path I choose hasn't been full of vanity or easy by any means. Living in LA, I've had opportunities to chase being  rich and famous, but it didn't feel authentic. Sometimes, I wish I cared more about superficial things.
10. On the contrary, what would you consider a successful, proud or significant point in your life or music career so far?
NIKKI MANOS: At this point, I've done so many beautiful things that were only dreams when I first started, and it's too many to count. For me, owing Rabotat Records with Madame De Fer, aka Alexandra Morancy, is the best thing because we evolve together and share the same motivation to create and release exciting and great music. There's nothing more satisfying than that.
KEEP IN TOUCH:
FACEBOOK | INSTAGRAM | SPOTIFY | WEBSITE | YOUTUBE
Photo credits: Madame De Fer