With its combination of dreamy atmospheres and upbeat instrumentation, Philomuse is a well-rounded contribution to the indie-pop canon. Their extended play, "Stuck," has a little something for everyone.
The EP's self-titled single, "Stuck," captures the essence of its inspiration: the feeling of being trapped in unfavorable circumstances due to things like addiction, poisonous relationships, etc. The music, however, provides optimistic, positive emotions that serve as a source of hope that things will improve.
Bonnie Swayze, who owns the record label Thundersound Records, is where they recorded this EP. Jay Willis, who produced the EP, has been a wonderful guide. Check out the EP and the exclusive interview below:
1. Can you tell us a bit about where you come from and how it all got started?
PHILOMUSE: Philomuse originated in Clarksville Tennessee. Alec Williams (Lead vocals/guitar) met Michael Young (Lead guitar) through work, and Michael introduced Alec to the rest of the band Jared Bone (bass guitar) and Seth Sherley (Drums) who were all based out of Clarksville. We then met up and started jamming together on some of the material Alec had been working on, and the sound just came together very naturally.
2. Did you have any formal training or are you self-taught?
PHILOMUSE: Some of us have had some lessons through schooling and other avenues, but all of us started as self taught musicians. Our Drummer Seth is probably the most trained out of us as he actually works full time teaching drum lessons at Mary's Music in Clarksville TN. 
3. Who were your first and strongest musical influences and why the name 'PHILOMUSE'? 
PHILOMUSE: As a group we all have a very broad spectrum of musical influences. That spectrum ranges from bands such as Hippocampus, Radiohead, Peach Pit, Dayglow, Mac Demarco to bands such as Metallica, Tool, or Deftones. Philomuse is Greek, and means a lover of the muses or music and other arts. We all have a love for many different kinds of art forms, not just music, and that is why we feel like this name suited us as a band.
4. What do you feel are the key elements in your music that should resonate with listeners, and how would you personally describe your sound?
PHILOMUSE: We would describe our sound as dream pop/Indie rock. Some of the tracks such as "Stuck" display chill, melodic, happy, upbeat progressions that make you want to move, but we also like the slower more emotional tracks we create such as "Clouded Judgement" that displays ambient melodies and spacious reverbs that can really resonate with our listeners.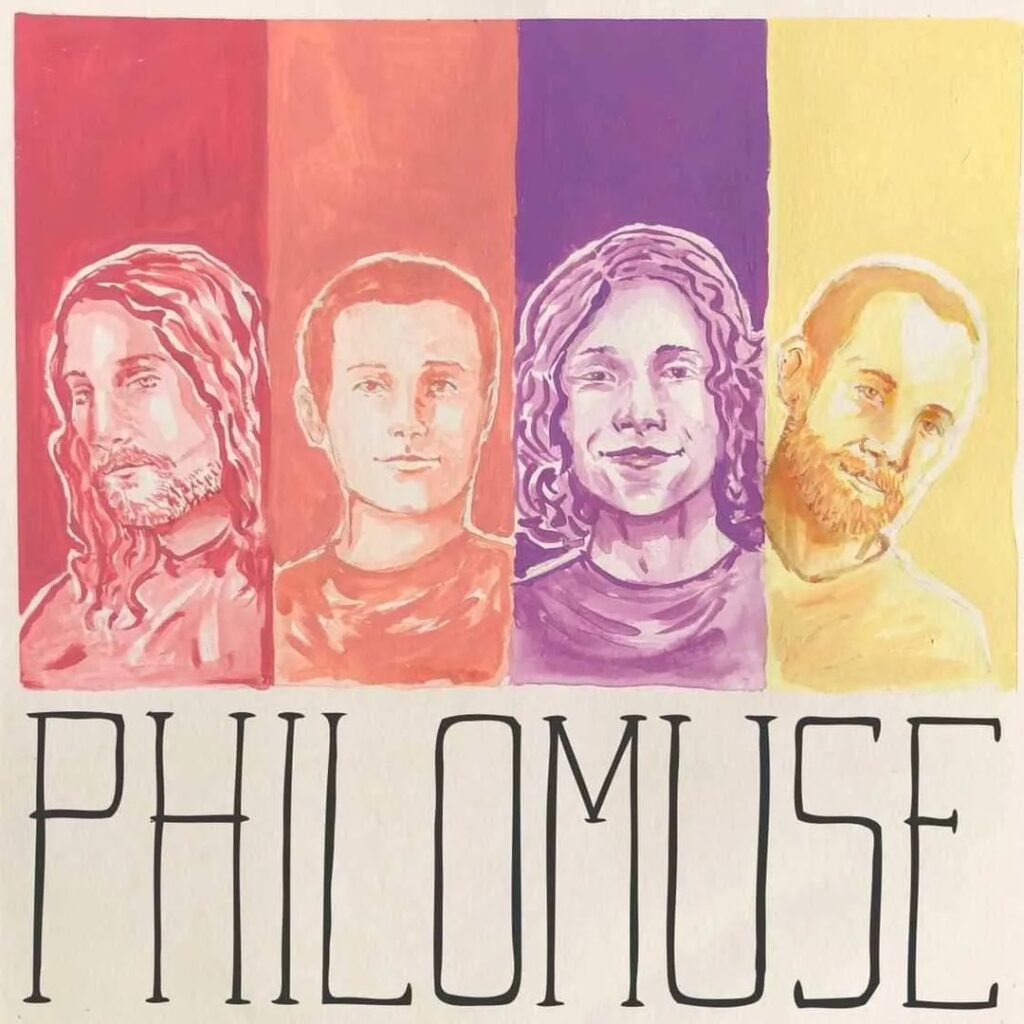 5. For most artists, originality is first preceded by a phase of learning and, often, emulating others. What was this like for you? How would you describe your own development as an artist and music maker, and the transition towards your own style, which is known as INDIE?
PHILOMUSE:
Some of the material that we put in the EP have been in the works for a while, but just needed to be pieced together into one collective body of work. A few of the songs were already there, just had to bring them to the group and let each member put their own perspective on the track. Although elements from bands that we were listening to (Hippocampus, Radiohead, Peach Pit, Dayglow, Mac Demarco) during the process of putting this EP together are prevalent in our sound, we feel like we did a good job of maintaining our authenticity. Even now, since we have started working on our first full record, we are still shaping our sound to continue challenging ourselves as musicians to prevent putting ourselves in a box, but also feel like we have established a particular style for ourselves at this point that we will continue to build on as we go. 
6. What's your view on the role and function of music as political, cultural, spiritual, and/or social vehicles – and do you try and affront any of these themes in your work, or are you purely interested in music as an expression of technical artistry, personal narrative, and entertainment?
PHILOMUSE:
We would say that music is spiritual, and definitely social vehicles for us. It creates that out of body out of mind experience, where no matter how bad your day was, we can leave it at the door and just thrive in that moment. We are also all best friends, and enjoy the time that we get to spend outside of our day jobs really pushing ourselves and each other to make the best music possible. Building relationships is a big deal in this industry, and we are lucky enough to have become a part of a very inviting music scene in Clarksville TN. Promoters, locals, and other bands have shown us a lot of love and have given us a platform to help get our music out there to help support us, which is amazing, and something we are very grateful for. 
7. Do you feel that your music is giving you back just as much fulfillment as the amount of work you are putting into it or are you expecting something more, or different in the future?
PHILOMUSE:
We have received a lot of positive feedback from the music which is definitely a great feeling. When you pour all of your time, emotion, and energy into something it's definitely fulfilling to have validation that others enjoy your work. We want to continue growing as artists, and want our music to reach as many people as possible in hopes of one day making this a full time career. But for now we're content with just having fun doing what we love to do.
8. Could you describe your creative processes? How do usually start, and go about shaping ideas into a completed song? Do you usually start with a tune, a beat, or a narrative in your head? And do you collaborate with others in this process?
PHILOMUSE:
Our process is really organic, Alec or Mike bring an idea to the group and we jam on it until we get some kind of structure that we can build on. Once we have an idea that really stands out and gets us all excited, we start to hone in on individual parts, and each member puts their creative spin on the track. We don't really write songs with a theme in mind, we just  focus on getting the music down, and once we have a good vibe we start writing lyrics. Most of the time Alec will bring lyrics and share them with the group, and then we go back to bouncing ideas of what works or what doesn't work until we get it where we want it to be. 
9. What has been the most difficult thing you've had to endure in your life or music career so far?
PHILOMUSE: As a band the most difficult thing that we deal with is time. We all work full time jobs and Alec (lead singer/guitar) lives about 2 hours away from the rest of the members. However, we love what we are doing so that makes it worth it in the end. We just make the most of the time we have, and put in as much work as possible whether that's practicing, getting ready for a show, or recording. 
10. On the contrary, what would you consider a successful, proud or significant point in your life or music career so far? 
PHILOMUSE: This EP to us is definitely a great accomplishment to us. These songs had been in the works for almost 7 months, and we had really dialed them in to where we wanted them to be when it came to performing them in a live setting, but we were ready to put them out there for others to hear. We originally started recording on our own but due to time and the space that we were recording in, we made the decision to book 4 days at Thundersound records In Franklin Kentucky to get it done. It was great to get in the studio with our friends, push ourselves creatively, and get it done. This was the first content we had released as a group, and it was satisfying being able to listen to a finished product put out across all of the different music streaming platforms at the end of the process.
KEEP IN TOUCH:
Photo credits: Jay Willis