Hugh Ruiz Robert, a Sheffield-based DIY multi-instrumentalist, songwriter, producer, and vocalist, goes by the enigmatic stage name "Ruiz!" The new collection of songs, which were all recorded in Lockdown with just a laptop and a few additional live instruments, effortlessly fuses 60s rock'n'roll, electronica, punk, pop, psychedelia, and dark rock with Ruiz!'s perspective on contemporary life. Songs about life, love, and the contemporary illnesses affecting men and women as well as life in these peculiar times.
Falling is Ruiz, described as Iberian Psych by Sheffield's Reverend Jon McClure! The sixth release on Only Fruit Recordings has already received BBC Introducing's endorsement. Four minutes of electronic music with a '80s flavor and Ruiz flavoring! It doesn't quite differ from earlier singles in terms of trademark psych, but it is unquestionably more approachable. Hugh explains, "I think it's important to get out there and go for our dreams again. Falling was originally called Fate as I thought in these difficult times we seem to have had the wind knocked out of our sails in this 'post' covid world we are in. I believe it is crucial that we enjoy the moment, be content with what we have, and stop worrying about what we don't. Go for it!"
In fact, 'Falling' and all of his previous singles exhibit the same joie de vivre and unbridled energy that 'Ruiz!' possesses. These recordings are sophisticated and contemporary. Ruiz concentrated on his music while the pandemic was at its worst, making DIY soundscapes of a high caliber. Smart songwriting, infectious choruses, and catchy hooks. Check out his original single Falling and the exclusive interview below: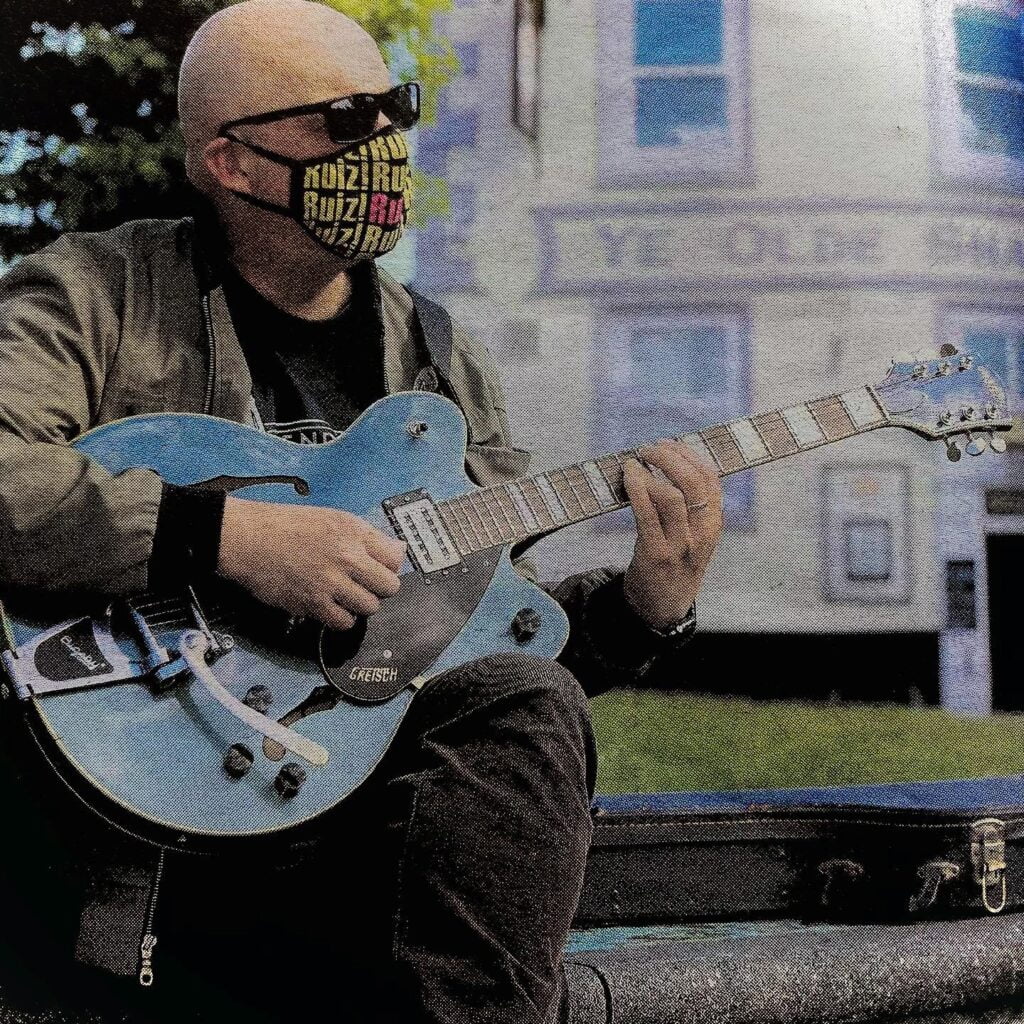 1. Can you tell us a bit about where you come from and how you got started?
RUIZ!: Hi, I'm originally a Catalan who grew up in the UK. I'm from Barcelona. I now live in Sheffield, UK. I started playing the piano when I was five, and then the cello when I was a bit older. I always wanted to be like McCartney and Sting who were the bassists in some of my favourite bands, so I used to play the Cello on my knees, like a bass guitar. When I was 13 my parents let me get an electric bass, which I still have and use on some of my recordings. So, I guess I started when I was 13 playing bass in bands. I started recording my own music when the world went into Lockdown a few years ago, and I never stopped.
2. Did you have any formal training or are you self-taught?
RUIZ!: I am self taught in everything I do, which is why it's taken me this long to get going…
3. Who were your first and strongest musical influences and why the name 'RUIZ!'?
RUIZ!: Well, my first musical influence has to be my mum who is classically trained and got my sister and I into playing music and getting us into the process of practicing and honing our skills.
My first musical love was the Beatles, I grew up in a house of more or less only Classical Music. I loved the Police and new-wave/punk acts like Adam and the Ants, the Jam, etc, but also the electronic side of it like Depeche Mode, OMD, Human League, etc. Music has helped me so much over the years, and I listen to a very wide and eclectic mixture of music. Always have done, The The, Blur, David Bowie through to bands like Aphex Twin, Mouse on Mars…
Ruiz is my surname. Rather than come up with a band name I went for that. I foolishly thought that adding the '!' at the end it would make a difference and make finding me an easier task, but it didn't!
4. What do you feel are the key elements in your music that should resonate with listeners, and how would you personally describe your sound?
RUIZ!: I think a catchy melody and an interesting soundscape makes all the difference. Lyrics too are very important. They have to have a meaning you can react to too.
My sound seems to be a mixture of all my favourite music. It's quite mixed up. I'm sticking to Iberian Psych as a genre, my friend and wonderful human being, Jon McLure of the Sheffield band Reverent and the Makers called it that when he heard my first single, Morning. Indie is a general concept musically which I don't mind at all. A lot of my favourite bands fall under that umbrella.
6. What's your view on the role and function of music as political, cultural, spiritual, and/or social vehicles – and do you try and affront any of these themes in your work, or are you purely interested in music as an expression of technical artistry, personal narrative, and entertainment?
RUIZ!:
Music has always been political, cultural, and spiritual. The Blues comes from the songs the slaves used to sing. Lennon's Give Peace a Chance is a brilliant political song, I love Billy Bragg too. His music is very political. My next single is called One Rule. It's an open letter to political leaders and narcissists…
I think my music has also served as a means for my subconscious to communicate with my conscious self. It's all so strange what lies hidden in our minds. I had a bit of a difficult childhood, this has come out in my songs.
Personally, I love making music and crafting sonic soundscapes that I love and sound awesome to me. It's a massive bonus that others like it too. My writing music really started as an accident. Friends liked it and encouraged me to get it out… here we are now. I have released an album and almost six singles. I have the next album and single almost ready too.
7. Do you feel that your music is giving you back just as much fulfillment as the amount of work you are putting into it or are you expecting something more, or different in the future?
RUIZ!:
Yes, definitely. Without it, I would have gone mad over Lockdown. It's very cathartic, and loads of fun. I use Logic Pro to record with and it's amazing what it can do!
I would love to make a living out of music. I'm definitely going to carry on making the music, and playing it live is the next thing to concentrate on.
8. Could you describe your creative processes? How do usually start, and go about shaping ideas into a completed song? Do you usually start with a tune, a beat, or a narrative in your head? And do you collaborate with others in this process?
RUIZ!:
So, I'm always recording ideas on my phone which I sometimes use when writing a new song. I tend to create the music first. I recently invested in a new keyboard that brings with it a huge amount of sounds. I have all the virtual synths available, and this has led to loads of new song ideas. Once I have a song, I listen to it and see which emotions it evokes. I do make lyrical notes as I walk around too. It's a musical jigsaw really.
I haven't collaborated with anybody else yet, however, I am open to it.
9. What has been the most difficult thing you've had to endure in your life or music career so far?
RUIZ!: In my life, I'd say my childhood, long story… Musically, I find that I've helped musical buddies on their way up, but when I ask them for help, I get rejected. I wonder what happens to people as they find fame and success? No names mentioned but living in Sheffield, and it being a global village, everyone knows one another.

Also, being completely autonomous as an act, Ruiz! is very time-consuming. Not the making music side of things, but the work that goes into releasing music. It's hard work, and rewarding, but some help would be appreciated, to quote the Beatles, 'Help, I need somebody…'
10. On the contrary, what would you consider a successful, proud or significant point in your life or music career so far?
RUIZ!: The fact that I am releasing any music on my own I consider a success. I listen back to my work and imagine if somebody had told me even only 4 years ago that I was going to release and make my own music…
Being featured by Tom Robinson and added to the BBC Introducing Mix Tape made me feel extremely proud and a success. I listen to 6Music on the BBC, and to hear my music on that was a true highpoint. I would like to hear a lot more of it though…
I was also really blown away by the 14k plus streams of my last single 'Falling,' and the 10k plus views of the video. The things people say about my music makes me feel proud, and I love that people have listened. There's a lot of new music out there and to be heard above the rest is incredible. I am so proud and overwhelmed by it all! Keep on keeping on.
KEEP IN TOUCH:
FACEBOOK | INSTAGRAM | TWITTER | SPOTIFY | BANDCAMP | WEBSITE | YOUTUBE