A protest rock song about Kashmir's violations of human rights is titled Anthem for Kashmir. Check out the exclusive interview below:
1. Can you tell us a bit about yourself? Do you have any formal training or are you self-taught?
SANDEEP RAVINDRANATH: I'm a filmmaker and musician from Kerala, a state in the south of India. I have voice training in Carnatic classical which is one of the two classical music forms of India. I have taken guitar lessons as well. I have an MFA in film and an MMus in Music Technology.
2. How can one create art in environments of censorship like yours?
SANDEEP RAVINDRANATH: This is really tough. Independent artists beg and borrow to create their work and hardly have the thousands or millions that, for-profit projects have for their production and marketing. Unfortunately, the few tools like YouTube, Facebook, Instagram or Twitter that we have for reaching an audience turn out to be the first platforms to give-in to authoritarian diktats and enable censorship. Because of course their sole purpose of existence is to make money – they would not choose to hurt their markets in exchange for defending basic human freedoms. Even Western governments choose to look the other way as India slips into an elected autocracy, to preserve their access to India's billion-people market. I have always looked to artists in other countries with heavy censorship like Iran for instance, who create such beautiful art and films in spite of censorship, house arrests and everything else thrown at them. Perhaps making art is still possible as long as people around us choose to support and do the right thing.
3. What does the title of this song 'Anthem for Kashmir' imply?
SANDEEP RAVINDRANATH: Kashmir is a region of south Asia that has been in socio-political turmoil for decades, especially from the late 80s. In August 2019, the government of India stripped away their last vestige of respectability through deceit, revoking a promise to the Kashmiri people enshrined in India's original 1949 constitution. Further, just last year, the Indian government aided a vulgar Bollywood propaganda movie villainizing Kashmiris to create a prejudicial narrative against them. Anthem for Kashmir is a protest in response to all this.
4. The language used in this song is Tamil, which is one of the languages from south India spoken by about 100 million people around the world. What made you want to create a Tamil metal track?
SANDEEP RAVINDRANATH: Along with the attack on religious minorities, the current right-wing Indian government has been on an onslaught against the linguistic minorities of India as well. They want to impose their language, Hindi on the rest of India, which has 100s of other native languages. Choosing Tamil, with its long history of fighting Hindi imposition was a response to this. Aesthetically too, the Tamil language has its own beauty, ideal for the rock/metal form. Use of Tamil signifies a pan-Indian solidarity for the Kashmiri struggle. The lyrics refer to the human rights abuses in Kashmir.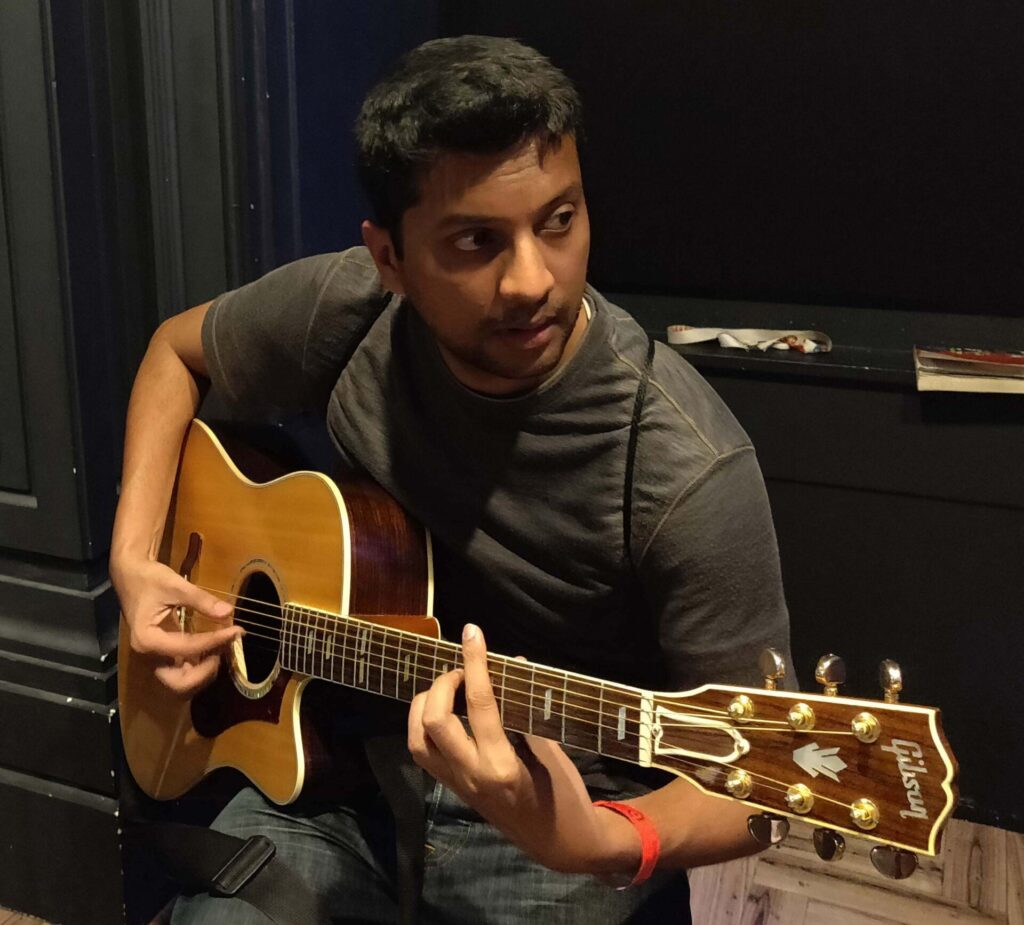 5. What's your view on the role and function of music as political, cultural, spiritual, and/or social vehicles. Do you try and affront any of these themes in your work? Is it important for listeners to understand the real story and message driving your work?
SANDEEP RAVINDRANATH:
I think it was Toni Morrison who said, "all good art is political". Even when you choose to be indifferent towards what's happening around you and claim to be 'apolitical', you have already made a political decision. Art always exists in a social context which it can never be divorced from, simply because we who create it ARE social beings. So all these social elements, whatever they maybe – cultural, spiritual etc., of course, play a role in one way or another. I think context is important. If the audience knows the story behind the work, it would provide a well-rounded experience.  
6. Sounds like there's some politics to unpack here.
SANDEEP RAVINDRANATH: Yes, India has been at the mercy of a right-wing Hindu nationalist government since 2014. This government is headed by members of an organization that is inspired by Nazi ideology and had in 1948 murdered Mahatma Gandhi. As expected, they have systematically dismantled every democratic institution in the country including the judiciary and the media, while carrying out violence against the non-Hindu minorities in the country through state-affiliated agents. The Kashmiris is one such minority group who are mostly Muslim.
7. No wonder then, that these Hindu Nationalists have taken offense to your song? I believe the video accompanying this track was subjected to censorship by this right-wing Indian government? Could you tell us about the video?
SANDEEP RAVINDRANATH: The video was blocked in India without giving any reason for why it was being censored. Incidentally, the law used to block it was the same law used to censor a recent BBC documentary exploring the condition of minorities in India as well. I had written about this censorship in the British newspaper, The Independent. The video which I scripted and directed, highlight issues of enforced disappearances (people illegally abducted by the government), half-widows, fake-encounter killings (staged extrajudicial killings) and pellet-gun victims (there's a reference to Banksy's Girl With Balloon, which we adapted to show the girl as a pellet-gun victim with an eye-patch).
8. How did this protest anthem originate? Who were the others who collaborated on this?
SANDEEP RAVINDRANATH: I had followed the Kashmiri situation for years, but the August 2019 actions of the right-wing Indian government was the tipping point. There was a scream stuck in my head from that point, and I put it down in the chorus of a melody on my acoustic guitar. The chorus would be just that – a scream, followed by 'Kashmir' repeated over and over. I sat down with my poet friend Abi Abbas. We looked at photos coming out of Kashmir – barbed wires, stone pelting, blinded pellet-gun victims, funeral of a child. Each of those images became the lyrics in the song. Syed Ali, an award winning documentary filmmaker also helped us fine tune the lyrics. The song arrangement that I had in my Logic Pro was shared with musician friends – guitarist Sudeip Ghosh, bassist Govindan Potti and drummers Anoop Ravi Thomas and Varun Das. They added their own layers to it. It was recorded by a longtime mentor-friend Biju James and then mixed by Vivek Thomas.
9. That brings us to the lyrics of the song. Could you tell us about it and perhaps translate it?
SANDEEP RAVINDRANATH: The lyrics talk about among other things, violence against civilians, condition of Kashmiri women, blinded pellet-gun victims. The opening lines are for instance, about people including children who have been shot in the eye using pellet-guns by government forces. The next stanza is about the plight of women. The term 'saffron' before the second chorus represents Hindu nationalists – saffron is the color of their flag.
Blood that refuses to freeze in the bitter cold,
is here, made to clot in the eye.
With blindfolded eyes of justice,
even the scales here lie.
Dreams that women here see,
die without seeing the dawn.
Even wombs here have been,
turned into cemeteries.
Kashmir!
Kashmir!
Kashmir!
Kashmir!
Handcuffs, bullets and batons,
threaten you.
Each loss shall etch,
your history.
Brutal politics of saffron,
thirsts for blood.
This silence is deafening.
So I scream your name out aloud…
Kashmir!
Kashmir!
Kashmir!
Kashmir!
Pain the youth carry in their hearts,
pray in one voice,
for a day that is free and fair.
Kashmir!
Kashmir!
Kashmir!
Kashmir!
10. How was the audience reception for this work?
SANDEEP RAVINDRANATH: The work crossed 10,000 views on Youtube in just 4 days. It had been embraced whole-heartedly by Kashmiris who left generous comments. The work received positive reviews from independent artists, human rights activists, academicians and journalists from across the world. But of course, it was shut down by the Hindu nationalist government. Artists, authors, and creators, who step forward in India today, risk intimidation, censorship, arrest, or worse. It is critical for readers, viewers and listeners across the world to share their content, keep their work alive, and help ensure that civil and human rights are respected across India and Kashmir.
KEEP IN TOUCH:
SPOTIFY |  YOUTUBE