22-year-old songwriter Ewan Mainwood is set to release his debut EP 'Broken', this summer. It is a seismic emotional punch, which inspires both a fervent connection with listeners as well as a cathartic release of his own vulnerabilities. With a purity to his voice that heightens, 'Broken' tells the story of a relationship that's sinking under the pressure of mental health problems.
Ewan's ability to capture evocative snapshots of fleeting moments in life is inspired in part by the storytelling artists he admires, Sam Fender, Holly Humberstone, Dave, and Frank Ocean. 'No One Save Me' is the first single from Ewan Mainwood. Coupled with an incredible live plot and festival season lined up, 2022 is shaping up to be the start of something big for Ewan. Check out the exclusive interview below: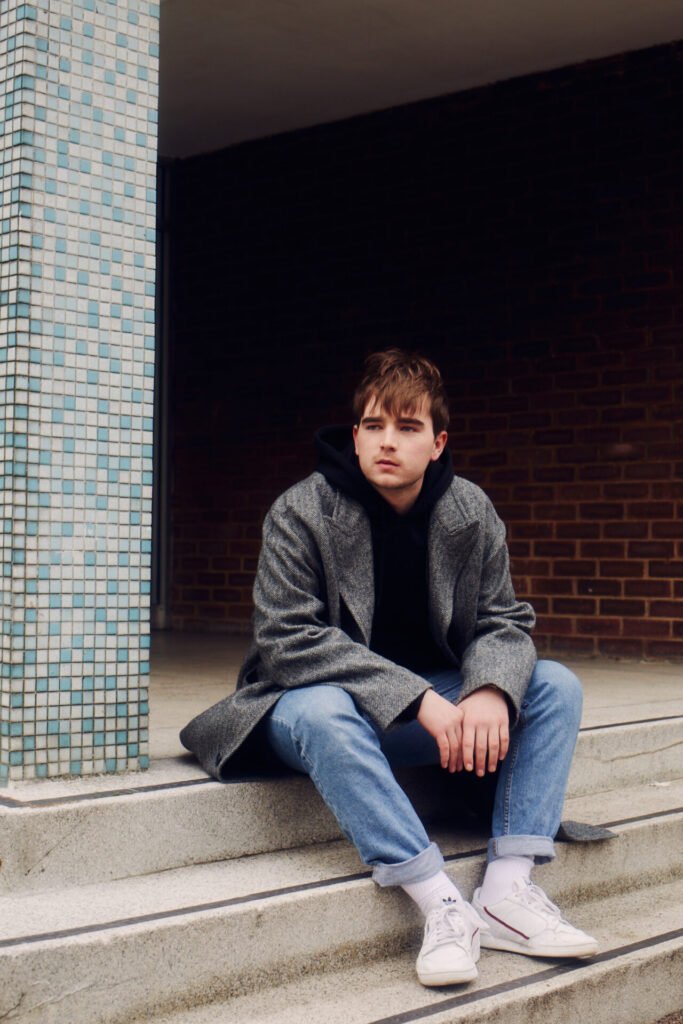 1. Can you tell us a bit about where you come from and how you got started?
Ewan Mainwood: I'm originally from a place called Wanstead in North East London. I spent almost my entire childhood growing up there so it is a place very close to my heart. Actually, all the photos for the artwork of my upcoming single and e.p were all photographed around this area. In terms of getting started, I was intrigued and fascinated by music pretty much as far back as I can remember, whether it was listening to music in my parent's car, messing around on the piano at my Grandad's house, or even writing songs from about the age of 7. It's been a passion I've carried ever since then, and I'm so grateful I get to do it every single day!
2. Did you have any formal training or are you self-taught?
Ewan Mainwood: Music to me has always been about creating, so for the most part I'm self-taught just through trying different things until something catches my ear. I did start music lessons for the cello from around year 2 and kept it going until year 8 but the formulaic way it was taught to me made me lose interest and just want to play other instruments in which I could express myself more.
3. Who were your first and strongest musical influences and why the name 'Ewan Mainwood'?
Ewan Mainwood: I feel as though I've always been inspired by a large range of music. The earliest things were probably bands such as The Beatles and Oasis. Although I was young there was something about certain melody lines which always made me feel or relate to something even if I didn't know what the lyric was about.
I chose to stick with my name because I feel as though my music speaks truthfully about my life experiences, and therefore, I don't think it would feel right to release it under a made-up name.
4. What do you feel are the key elements in your music that should resonate with listeners, and how would you personally describe your sound?
Ewan Mainwood: I think the main thing people have resonated with so far is the honesty and relatability of my lyrics and the emotional delivery of my vocal. I really try to write songs which mean something to me whether that's self-experience or experiences of other people I know.
I guess it would probably come under the pop category even though I think there's definitely influences from a wide range of genres. As an artist I want to be versatile and not be stuck in one specific sound or style I just think that would be boring and obvious. Even in this upcoming E.P I think you can see the difference of style and influences as well as having consistent elements.
5. For most artists, originality is first preceded by a phase of learning and, often, emulating others. What was this like for you? How would you describe your own development as an artist and music maker, and the transition towards your own style, which is known as pop?
Ewan Mainwood: Yes I can relate to this a lot. For ages, I didn't really know who I was an artist and went through multiple phases of emulating other peoples writing styles and even vocal styles in some way. I think when I was about 14/15 I went through a massive ed sheeran phase where I bought a loop pedal and even wrote rappy verses similar to the way he does. It took a while but I now feel I'm not trying to be anyone else and when I go in the studio I just write the way I want to and feels most natural to me.
7. Do you feel that your music is giving you back just as much fulfilment as the amount of work you are putting into it, or are you expecting something more, or different in the future?
Ewan Mainwood: I think it can be tough especially for a new artists to get fulfilment back straight away. I've spent years wiring songs and bettering my craft and though I know its very early on in my career sometimes I wish there were more people discovering my music but I'm sure that will come with time! However, saying that there has already been some amazing moments whether thats just seeing the songs relate to people as i'm playing live or even through receiving loads of lovely and supportive messages through social media.
8. Could you describe your creative processes? How do usually start, and go about shaping ideas into a completed song? Do you usually start with a tune, a beat, or a narrative in your head? And do you collaborate with others in this process?
Ewan Mainwood: It differs a lot actually, sometimes I go into the studio knowing exactly what kind of song I want to write, and other times I just go in with an open mind and see what happens that day. I really enjoy the process of collaborating with other people as you get this energy that you don't really get on your own. One of my most favorite moments in all of the music is that moment when a melody line appears and the room erupts in excitement about the potential of what that could become.
9. What has been the most difficult thing you've had to endure in your life or music career so far?
Ewan Mainwood: I think the hardest thing so far has been comparing myself to other people. However hard I try not to do it it is something that always creeps up on me. I think it is mainly through social media platforms where it happens, I know how important social media is for new artists but it has never been something I'm completely comfortable with and therefore leads me to self-doubt and comparing myself to other artists who are way more competent with those platforms.
10. On the contrary, what would you consider a successful, proud or significant point in your life or music career so far?
Ewan Mainwood: There's been so many amazing moments so far. I mean, the highlight is probably getting the opportunity to support Ed Sheeran on his warm-up shows for his world tour. As I mentioned before, he has always been someone that I have looked up to and been inspired by so being able to do that without even having a song out at that time was crazy and just such a wonderful experience.
Keep In Touch: