THE DODIES are a garage rock duo from Israel's southern desert. Yoni Avittan is the primary vocalist and guitarist for the band, while Ran Aronson sings background vocals while simultaneously playing bass lines on the keyboard and the whole drum set with the other hand.
'Floating in Limbo' was co-produced by 'Bumblefoot' Ron Thal (Sons Of Apollo/ex-Guns N' Roses) and recorded in Ireland by the Garage Rock combo.
Since its release, the album's first song, "No Silver Lining," has been featured on Spotify's All New Rock playlist and has been accompanied with a funny TikTok-themed music video. "I was blown away – great songwriters, performers, and lots of personality. Together they're a sight to be seen" says Ron 'Bumblefoot' Thal. Check out the song and the song and the exclusive interview below:
1. Can you tell us a bit about where you come from and how it all got started?
THE DODIES: We grew up together in a small town in southern Israel, a suburb full of palm trees in the middle of the desert. There we started a Hebrew punk band under the name 'WeSuck' when we were 14 years old and recorded live songs of Ran bashing away on drums while Yoni screamed into a cheap 20 Shekel microphone. Later on, we evolved into The Dodies and managed to develop connections to the States. 
2. Did you have any formal training or are you self-taught?
THE DODIES: Yoni had a friend teach him a few chords but wasn't very persistent with teachers. Ran took drumming lessons from various teachers for more than ten years.
3. Who were your first and strongest musical influences and why the name The Dodies?
THE DODIES: We grew up listening to Major Alt rock bands, mostly bands from the 90's like Nirvana, Radiohead, Placebo, Soundgarden.
The name 'The Dodies' came from a nickname Yoni's family gave him as a child, Dodie. He just thought it could be a catchy name for a band
4. What do you feel are the key elements in your music that should resonate with listeners, and how would you personally describe your sound?
THE DODIES: Our first album "IT'S ONE HELL OF A RIDE" mainly focuses on Yoni's battle with depression and was mostly written while he was in a day care program in a mental institution.
Our second Album "FLOATING IN LIMBO", which recently came out, is more about the process in between. Trying to accept your obliviousness to yourself in order to gain more insight about your sick patterns.
Our third album "DREAMISM" (which has yet to be recorded) focuses on overcoming depression, and the insights that helped Yoni create healthier connections with people.
The sound itself is a raw, roomy garage type of rock. The albums were mostly recorded live and without a metronome. We don't have a bass player so Ran mostly drums one handed while playing a keyboard synthesizer with his free hand, keeping the drum parts simple. We also plug my guitar into a bass amp for certain songs to create a massive sound and free Ran to drum like a wild beast. The songs themselves are diverse and sound like mixtures of different rock styles.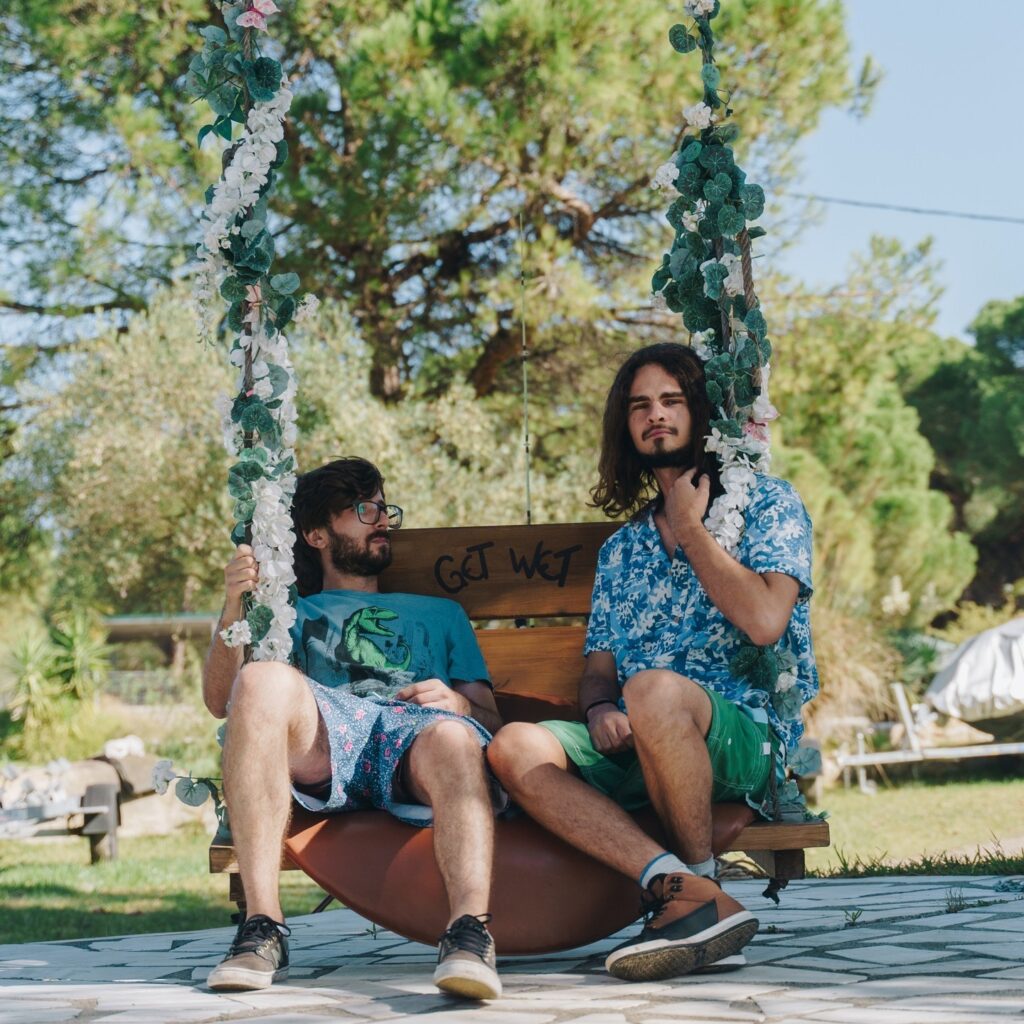 5. For most artists, originality is first preceded by a phase of learning and, often, emulating others. What was this like for you? How would you describe your own development as an artist and music maker, and the transition towards your own style, which is known as Garage Rock?
THE DODIES:
Our songs as WeSuck had a lot of gimmicks to them and were easier to popularize online, but the more honest we grew the harder it was to get noticed, it was a painful transition to make but we felt it was necessary if we wanted to keep loving what we did and make a deeper connection to people listening.
6. What's your view on the role and function of music as political, cultural, spiritual, and/or social vehicles – and do you try and affront any of these themes in your work, or are you purely interested in music as an expression of technical artistry, personal narrative, and entertainment?
THE DODIES:
There have been few political narratives in our songs, but to us a personal narrative is core to all political, cultural, or spiritual functions. how an individual functions with himself in a harsh environment comes down to the person's connection to themselves and in term, the world around them, which at the end of the day is a process all most go through regardless of where they live or function.
7. Do you feel that your music is giving you back just as much fulfillment as the amount of work you are putting into it or are you expecting something more, or different in the future?
THE DODIES:
We do put a lot of work into the music, because we believe in its potential, which also means we believe in something that hasn't happened yet. But if creating wasn't therapeutic or natural for us there wouldn't be much of a point for us in going all the way with it as we have. Being a musician feels a bit irrational at its core, especially being the type if rock band we are these days and in our environment.
8. Could you describe your creative processes? How do usually start, and go about shaping ideas into a completed song? Do you usually start with a tune, a beat, or a narrative in your head? And do you collaborate with others in this process?
THE DODIES:
Yoni – the themes usually have something to do with an experience I'm going through. I write down insights in a diary to get a better idea of them, but I only expresses them in the form of music when I've got a good melody. That usually comes when I just jam with myself in the room. Then I bring the song to Ran and we adapt and sort of produce it together.  
9. What has been the most difficult thing you've had to endure in your life or music career so far?
THE DODIES: Probably the artist Visa difficulties we've been facing for years now. Yoni was born in the States and is a US citizen, but that is not the case for Ran. The process of getting a real tour going in the U.S has been arduous. And since Israel is too small of a country it is impossible to have a real tour here.
10. On the contrary, what would you consider a successful, proud or significant point in your life or music career so far?
THE DODIES: We have a patron by the name of Alison who has been a great believer and promoter of the band for quite some time. With her help we've managed to reach Bumblefoot, a musical prodigy who's played lead guitar for bands like Guns N' Roses, Sons of Apollo and Yes. He's been a great mentor and producer for us ever since we met him years ago.
11. With social media having a heavy impact on our lives and the music business in general, how do you handle criticism, haters, and/or naysayers in general? Is it something you pay attention to, or simply ignore
THE DODIES: Haters online defiantly become white noise after a while. It's hard to personally imagine writing someone a degrading comment about their creation, even if it sucks. We believe the people who feel compelled enough to do so are probably projecting some other issue on to us.
12. Creative work in a studio or home environment, or interaction with a live audience? Which of these two options excites you most, and why?
THE DODIES: There are pros and cons to both options, but the one we usually end up going for is the home environment, the jokes and brainstorms we have in a private environment usually end up giving us the best outcomes.
13. Do you think is it important for fans of your music to understand the real story and message driving each of your songs, or do you think everyone should be free to interpret your songs in their own personal way?
THE DODIES: It's funny how some of our lyrics can be very straight forward and people still end up interpreting them in their own way. Sometimes it feels like people describe the lyrics better than we even thought of. But we don't try correcting anyone who tells us what they think the song is about. We only answer if they ask.
KEEP IN TOUCH:
FACEBOOK | INSTAGRAM | SPOTIFY | BANDCAMP | WEBSITE | YOUTUBE