THE HYBRIS is a trio of friends' global Alternative Rock project. They all grew up in Germany and have known each other for a very long time. Before the trio became well-known all over the world, they had previously played in a number of rock bands.
They currently reside in Nice, L.A., and Cologne, but they continue to make music now more than ever. In a shared virtual recording studio, they create everything on their own. Each member plays a different instrument and provides the necessary input for the song at hand.
Why is this name used? In Greek tragedy, the word "Hybris" represented inflated self-esteem, haughtiness, and excessive ambition that brought about the ruin of the offender. The ideal headline for the time in which we live.
Their lyrics frequently display political attitude; after all, rock music without attitude is terrible. Then again, why the silly masks? Isn't this mask thing past its prime? THE HYBRIS are three would-be superheroes on a mission to save the world who write their music as Ringo Rabbit, Beanie Bison, and Malcolm Mandrill. "We had the urge to try something new. It was a bad idea at first, but now we think it's pretty cool," says Ringo. Some speculate that they're trying to pass for something they're not. Others think it's a wise decision because, in reality, they're incredibly ugly. Check out their new single 'What if' and the exclusive interview below: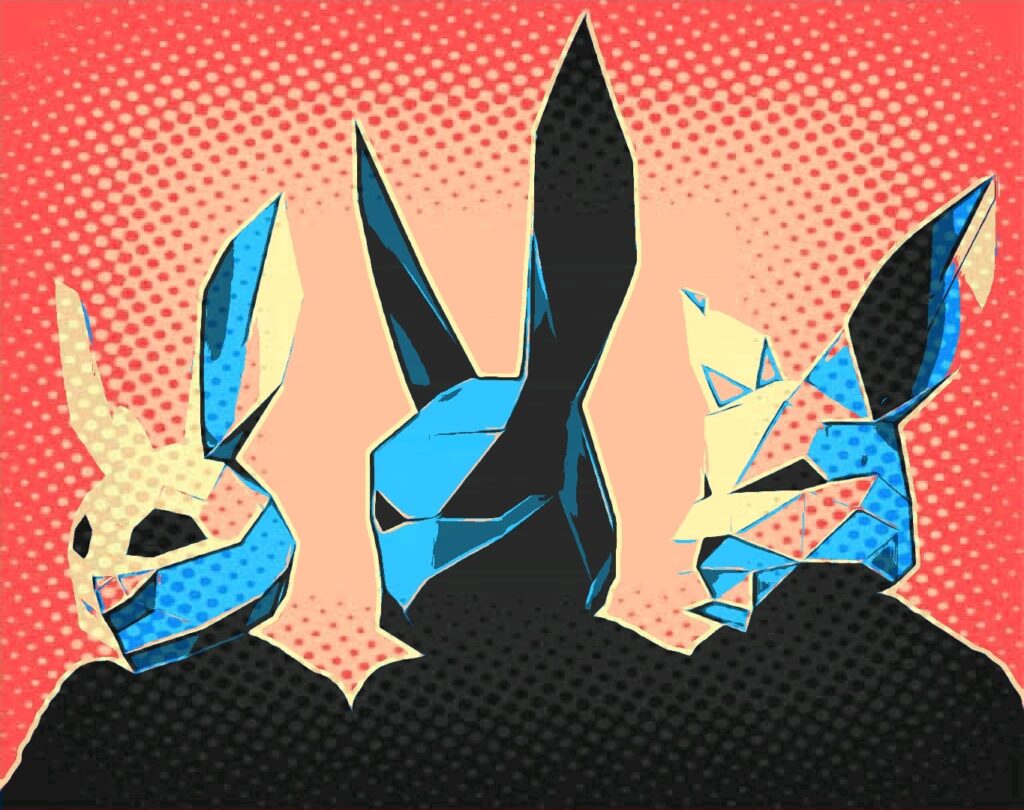 1. Can you tell us a bit about where you come from and how it all got started?
THE HYBRIS: There are three of us. In the past all of us lived in Germany, we know each other for many, many years and used to play in different Rock, Punk, Hardcore bands. As life will have it, we ended up spread all over the globe for professional or family reasons, and so today we live in Cologne, Nice and in L.A. Nowadays we produce our music remotely, in a virtual studio. We re-started our collaboration three years ago and spent this time to record our debut album, which we released in June 2022.
2. Did you have any formal training or are you self-taught?
THE HYBRIS: It varies, we all had proper lessons on our respective "main instruments", but we also taught ourselves other instruments over time. After so many years in the rehearsal room, it just happens – you grab other stuff and try things out.
3. Why the name 'THE HYBRIS'?
THE HYBRIS: The term hybris (or hubris) comes from the Greek tragedy and stands for 'exaggerated self-pride, arrogance, excess of ambition causing the transgressor's ruin'. Sometimes it feels like this 'hubris' is the perfect headline for the life we are living as human beings right now.
4. What do you feel are the key elements in your music that should resonate with listeners, and how would you personally describe your sound? And do you collaborate with others when creating songs?
THE HYBRIS: Our key elements are those of a classic rock band: drums, bass, guitar, a few keys, vocals, that's it. We also collaborate with other instrumentalists or vocalists when it's helpful for the song, but we try not to overload the tracks. In our music we often mix different styles, it moves between pop, punk, indie and alternative rock. People quickly compare you with existing bands, what I find very difficult for our own music. Others have compared us to bands like Black Rebel Motorcycle Club, The Killers, Feeder, The Jam or The Clash – which is an incredible compliment for us.
5. What's your view on the role and function of music as political, cultural, spiritual, and/or social vehicles – and do you try and affront any of these themes in your work, or are you purely interested in music as an expression of technical artistry, personal narrative, and entertainment?
THE HYBRIS: I think it's both. Yes, we are politically interested people and our lyrics often take a stand on political events or provide a comment on social observations. On the other hand, music is of course always part of a culture and entertains people – in one way or another. For many, music is a constant companion, an important part of their lives. In this respect, it is also always "entertainment".
6. Do you feel that your music is giving you back just as much fulfillment as the amount of work you are putting into it or are you expecting something more, or different in the future?
THE HYBRIS: It's definitely worth every minute! Sure, we put a lot of work and heart and soul into our songs, but it also gives us so much and we are proud of every single track.
7. Could you describe your creative processes? How do usually start, and go about shaping ideas into a completed song? Do you usually start with a tune, a beat, or a narrative in your head?
THE HYBRIS: All we do is created remotely and virtually. In the past, you had to spend tons of money for expensive recording studios and be creative in a limited amount of time. This always leads to some kind of pressure, sometimes dissatisfaction. That's different for us today, each of us can get started when the flow hits you, which is awesome. Sometimes there's a melody first, sometimes a piano hook, a guitar riff or a beat.
8. With social media having a heavy impact on our lives and the music business in general, how do you handle criticism, haters, and/or naysayers in general? Is it something you pay attention to, or simply ignore?
THE HYBRIS: In terms of our music and our project, we just ignore it, anything else wouldn't help and wouldn't make sense for us. Privately, it has led to me deleting all my social media accounts. This negativity and emotionality in every discussion, including insults, just sucks energy.
9. Creative work in a studio or home environment, or interaction with a live audience? Which of these two options excites you most, and why?
THE HYBRIS: Our blind spot: As mentioned, currently THE HYBRIS is a pure remote project. This approach has many advantages and brings us a lot of fun. But sure, there's nothing more awesome than being on stage and celebrating a live rock party with a bunch of people. We will see what the future holds for us.
10. Do you think is it important for fans of your music to understand the real story and message driving each of your songs, or do you think everyone should be free to interpret your songs in their own personal way?
THE HYBRIS: Of course, everyone can have her/his own interpretation or thoughts about a song. Or interpret and think nothing at all, but just enjoy the music. Everyone deals with and listens to music in a different way. I myself have sometimes only paid attention years later to what a song I love is actually about.
KEEP IN TOUCH:
INSTAGRAM | TWITTER | SPOTIFY | WEBSITE | YOUTUBE