Greek recording artist V/Terpan resides in London. In 2019, he dropped his first two singles (Never Love Again and Out), and in 2020, he did the same with Promise and The Beast. In December of the same year, he also dropped a 6-track EP called When The Poems Gave Us Life. Now, V/Terpan makes a comeback with the Sun EP released on 1st October 2022. He is getting back to his musical roots with five new songs.
Sun is a sophisticated rock/pop mashup that transports the listener from the warm, sunny deserts of suburban America to the chilly plains of northern Europe. Sun was inspired by a wide range of favorite artists, including QOTSA, The Doors, Muse, Tindersticks, and even Billie Eilish and Lady Gaga. Lyrically, these songs pay homage to the purest expressions of love, as seen in Sun's dreamy affirmations and Until the end's parentally protective love. These five songs succinctly and honestly express love as I have known it. Love for life, love for one another, love for art, and love for oneself. With his previous release (When The Poems Gave Us Life) in 2021, V/Terpan established a different tone in his music by moving away from the pop synth sound of his first singles and toward a darker, poetic style.
By adding more guitars and pianos to Sun, he now creates a rawer sound. However, the electronic darkwave component is there. The album was created between 2021 and 2022, mixed in London, UK, by Massimo Paramour, and mastered in Las Vegas, USA, by T.J. Penton. Check out the EP and the exclusive interview below:
1. Can you tell us a bit about where you come from and how it all got started?
V/TERPAN: I am Greek. I live in London for the last seven years. I've been writing songs since I was a student. Played guitar in a band with my friends. I left it for a long time but I always had songs in my head. I guess there came a right time for them to come out.
2. Did you have any formal training or are you self-taught?
V/TERPAN: I am self-taught on guitar. At some point I had a few lessons with a private teacher. I cannot read music if that's what you're asking but I can play the things I like which works just fine for me.
3. Who were your first and strongest musical influences and why the name 'V/TERPAN'?
V/TERPAN: I am and have always been a big fan of The Doors. I'm pretty sure when I sing one can hear me trying to imitate Morrison's vocal charisma …unsuccessfully I'm afraid.
I started playing the electric guitar after I watched Muse's Matt Bellamy on MTV performing their song Sunburn on guitar. I was amazed and thought to myself "that's what I want to do". The next day I bought a guitar.
My name was actually inspired by friends of mine a long long time ago and I have been using it a lot. My full name is Vasileios Terpanis…if you combine it with a bit of a Peter Pan syndrome from which I feel I suffer, it just fits perfectly for my artist persona. Hehe!
4. What do you feel are the key elements in your music that should resonate with listeners, and how would you personally describe your sound?
V/TERPAN: I want to believe that my songs have a "pure" rock n roll element in their core. I feel that I express myself in my own poetic way whether it's piano, synths or guitars surrounding the words. I hope those who listen can feel the same.
My sound is an amalgam of genres. My personal influences are obvious to those who know me.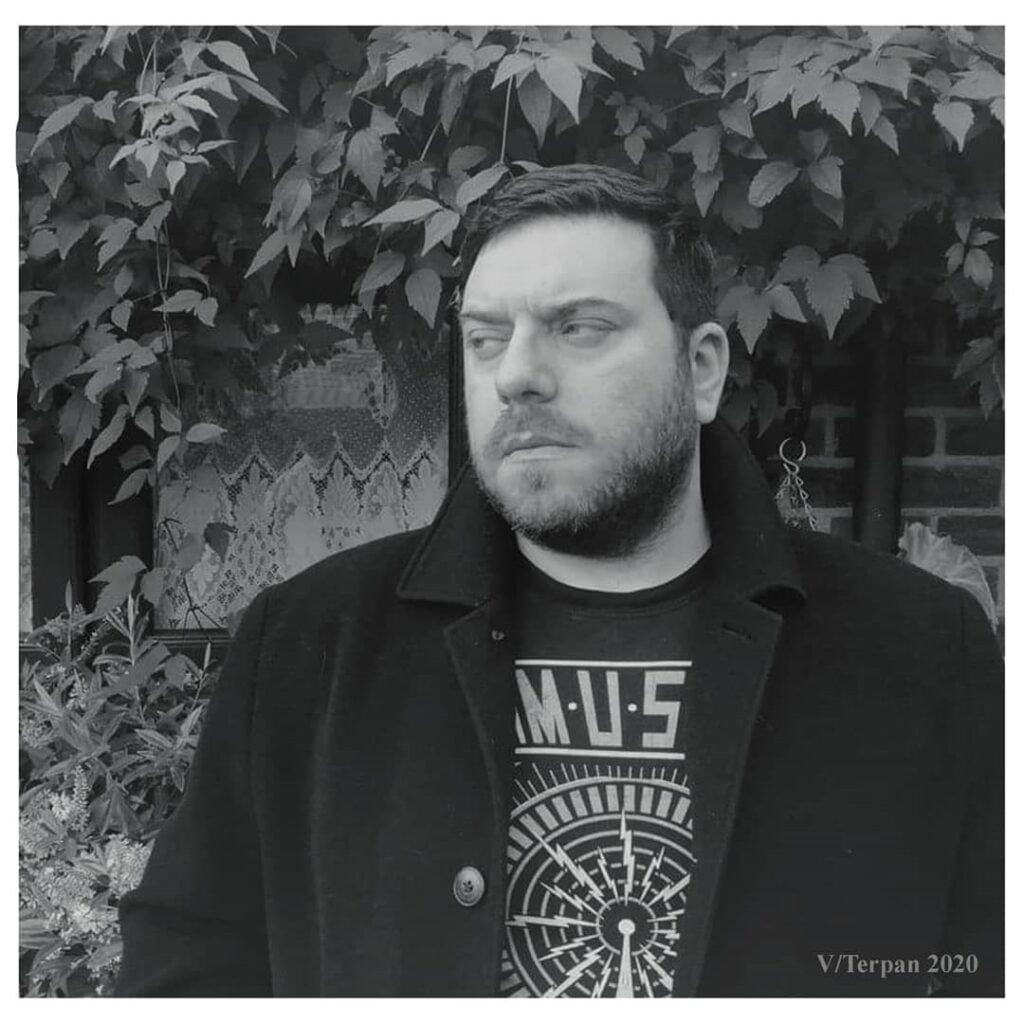 6. What's your view on the role and function of music as political, cultural, spiritual, and/or social vehicles – and do you try and affront any of these themes in your work, or are you purely interested in music as an expression of technical artistry, personal narrative and entertainment?
V/TERPAN:
Music in any form reflects culture. People can use it for every reason. To inspire or be inspired politically, culturally, or theologically. I am not religious personally, but I am intrigued by religion in an academic way if that's the right term to use. My previous EP When The Poems Gave Us Life had a clear theological background. I feel music as a totally spiritual tool. If there is divinity, music is a great way to reach it.
Music is art and the kind of art I do is just my naked feelings on your headphones, for your entertainment only.
7. Do you feel that your music is giving you back just as much fulfilment as the amount of work you are putting into it, or are you expecting something more, or different in the future?
V/TERPAN:
The process of creating a song and building it a little stone at a time is what gives me the most joy. It's like playing with Lego. When I listen to the final mastered version is when I get fulfilment as a composer/songwriter. I am not expecting anything after this. I used to, not anymore. I promote my music as much as I am able to and just hope that someone out there may feel something even slightly close to what I felt writing it.
8. Could you describe your creative processes? How do usually start, and go about shaping ideas into a completed song? Do you usually start with a tune, a beat, or a narrative in your head? And do you collaborate with others in this process?
V/TERPAN:
Big question. Inspiration can come from anywhere. It can be a single lyric that sometimes comes with its own melody, and I start building around it. Or a certain sound or word that can end up being a song. My song Until The End for example was inspired completely out of my own heartbeat. I tend to write lyrics out of the blue so either I can dress them with music or I can have a piece of melody for which I will write lyrics on the spot according to my feelings. I tend to be very impulsive with my songwriting. To sum it up, there are many many ways a song can come to life.
9. What has been the most difficult thing you've had to endure in your life or music career so far?
V/TERPAN:
I am not ungrateful. I have been through a lot but with all the ups and downs, life has treated me fair. There was a time I struggled to finish my songs due to financial difficulties. So, I had to be patient until I was able to.
10. On the contrary, what would you consider a successful, proud or significant point in your life or music career so far?
V/TERPAN: I am proud to be the person I am. And I am happy to be surrounded by people who support my musical vision. Friends, family, or the people that worked with me on my music.
KEEP IN TOUCH:
FACEBOOK | INSTAGRAM | TWITTER | SPOTIFY | BANDCAMP | WEBSITE | YOUTUBE