Plants That Grow At Night releases new song 'Comfortable Chairs'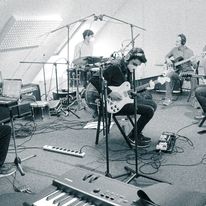 A group of Viennese musicians and producers known as Plants That Grow At Night fuses a variety of musical genres, including Funk, Neo Soul, Psychedelic rock, modern, and acid Jazz fusion. The majority of the songs are the result of protracted jam sessions that were then reworked and contaminated by either new member overdubs or special guests. Reference artists like Anderson Paak, Scary Pockets, Modest Mouse, Mezzoforte, Frank Zappa, and Jaga Jazzist can be cited as influences.
The catchy signature riff for 'Comfortable Chairs' was played by pianist Edvard Pink during a jam session, and the band then continued with a mixture of drone synthesizers, ambient rock guitars, and aggressive freestyle bass and drums. Hip-hop, contemporary jazz, and psychedelic rock are among the genres that each band member spontaneously introduced, and these are what are defining the group's sound. The song's title, an ironic metaphor, was inspired by George Orwell, and it also includes archival voiceovers from Jimi Hendrix and Ella Fitzgerald.
Check out their new song here!