UK singer-songwriter Abigail Bruce creates music for your ideal environment. A.B. Violet wrote the song "Check your feelings" when she was depressed and overburdened. It serves as a reminder to pause, take a deep breath, and reconnect with ourselves. Though it is sad, it is also quite catchy. Check out the song and the exclusive interview below:
1. Can you tell us a bit about where you come from and how you got started? A.B. VIOLET: Sure! I'm from Essex (UK) and to be honest, I have always been a bit of a music nerd. I've always dabbled in songwriting, I was in school choirs and bands, when I studied music at school, but nothing specifically stuck with me, no particular instrument or style. I'd start piano or guitar lessons when I started working as a teenager, but usually quit after a few weeks, which I regret now, of course!!! I think the turning point was lockdown, as it seems to have been for many artists. It really made me think about what I love to do and that has always been music, so I bought a Mac,  a mic, a Midi keyboard and a bass guitar- and just haven't stopped!
2. Did you have any formal training or are you self-taught?
 A.B. VIOLET: Hahaha, WELL. I actually have a Masters degree in Music. HOWEVER, on the practical side of things, I'm more self-taught. My studies were focussed on the Sociology and Psychology of Music really. It was great for the theory side of things- I can translate a lot of theory into practice and pick things up quickly to a basic level, but nothing replaces the practical motor skills that can only be developed over years of practice.  So, I am still and always learning how to produce and play instruments. I always say, I can score a full orchestra or choir with as many complex harmonies as you like, but production and live performance!? Those vital elements that you actually need as a modern artist!? Total novice- all trial and error. But thankfully, some of it works, sometimes!!!
 3. Who were your first and strongest musical influences and why the name 'A.B. VIOLET'?
A.B. VIOLET: I'm a 90's baby, so actually (believe it or not) I was massively influenced by 90's R&B and Garage at first. Not sure that translates at all. I do remember idolising significant female artists like Madonna, Blondie and Annie Lennox growing up, then from a songwriting perspective, I always admired Alanis Morissette, Tori Amos and Kate Bush. Also discovering David Bowie blew my mind. I think now, probably London Grammar and Massive Attack are the strongest… but yeah, I think I just appreciate a lot of different stuff, I enjoy House and Drum and Bass, but also more gothic stuff and even Opera- I'm now realising why I can't really figure out a specific style or genre as an artist!! A.B. Violet is just my initials and my middle name – absolutely zero creativity there!
4. What do you feel are the key elements in your music that should resonate with listeners, and how would you personally describe your sound?
A.B. VIOLET: Atmospheric is used to describe my music a lot, as well as celestial and spectral. There's usually a heavy, wet vocal reverb, a driving beat, a consistent piano part and some synths swirling around in there as well. I find it hard to pinpoint my own sound- but probably synth pop/melodic pop, right?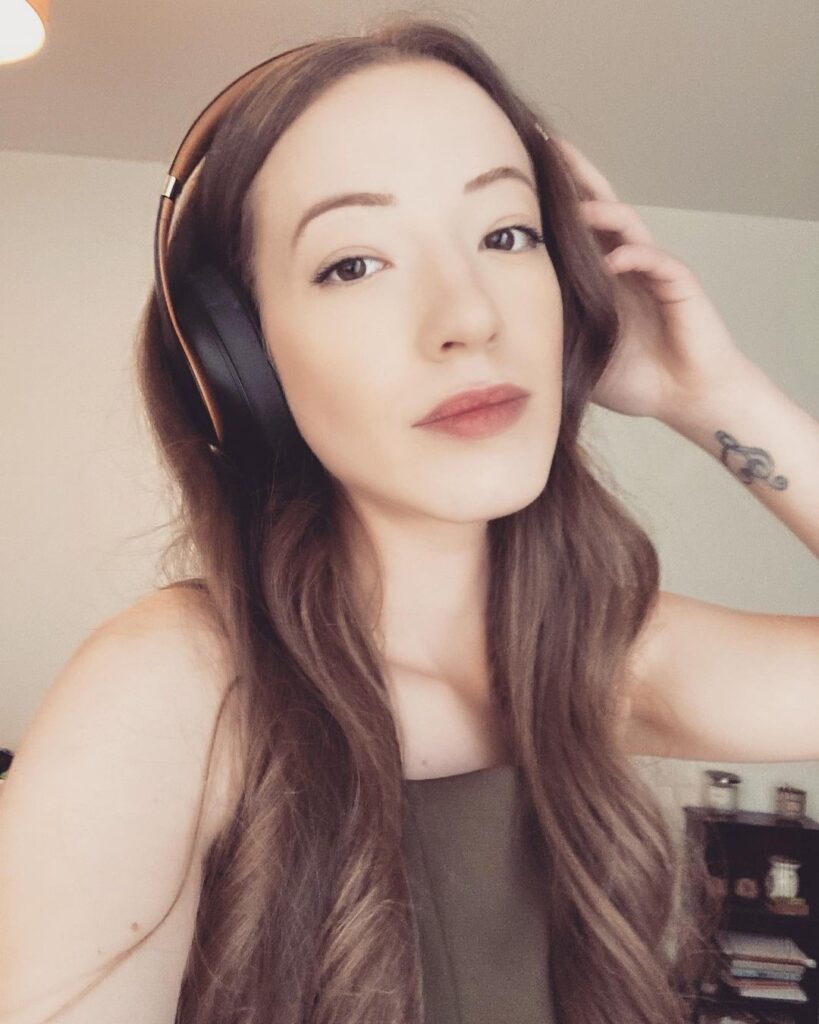 6. What's your view on the role and function of music as political, cultural, spiritual, and/or social vehicles – and do you try and affront any of these themes in your work, or are you purely interested in music as an expression of technical artistry, personal narrative and entertainment?
A.B. VIOLET:
HUGE question. Let me send you my thesis. I think music is hugely powerful and you cannot remove its socio-cultural associations – it never exists in a vacuum. That's evident throughout history and all over the world. My music is absolutely loaded with subtext, of course from my own perspective, but I want it to be accessible to those who don't necessarily share that perspective. At the same time, it'd be impossible to remove personal narrative without removing meaning and enjoyment. I think the expression of an authentic personal narrative can be an equally powerful social vehicle, when listeners can be absorbed in a sonic space, where they feel safe to resonate with it, in their own way.
7. Do you feel that your music is giving you back just as much fulfilment as the amount of work you are putting into it, or are you expecting something more, or different in the future?
A.B. VIOLET:
100% I am never not making music- there's always something in the pipeline and I have never really had any sort of goal or direction with it. I just can't stop writing. To be honest, I was a bit oblivious to the non-musical side of music. It's only as my circle has grown, as I've networked with other artists that I recognise the true scale of it. I need to put more effort into it, if anything. I would like to get out and perform more really, but I'm still working out how to best navigate live performance for a digitally produced track, where all parts have been played in by myself with basically either a drum pad or a midi keyboard. Pls advise.
8. Could you describe your creative processes? How do usually start, and go about shaping ideas into a completed song? Do you usually start with a tune, a beat, or a narrative in your head? And do you collaborate with others in this process?
A.B. VIOLET:
Narrative first. Always, although usually to a tune. Every single song has started as a Voicenote on my phone! Then I sit at a piano to figure out a key and chord progression that works, then a beat, then I play around with the frilly bits like synth and production elements. I have collaborated, usually with producers and usually for advice. As I've said before, everyone has a different perspective or preference- sometimes it works on both sides, sometimes you just don't vibe. There's a few potential collaborations coming up, that I'm pretty excited about.
9. What has been the most difficult thing you've had to endure in your life or music career so far?
A.B. VIOLET: It's got to be time and cost, right?
10. On the contrary, what would you consider a successful, proud or significant point in your life or music career so far?
A.B. VIOLET: Probably still getting my first radio play, for my very first release. I had no expectations at that point, so that initial recognition was an incredible feeling.
KEEP IN TOUCH: