The Christopher Ames Band of today is the result of years of Raw Story, Battered Faith, and Rock 'n' Roll.
At first view, "Second Glance – Second Life" appears to be a brief throwaway line from the album's title tune, but upon closer examination, it actually captures both the record's and the band's overall themes. Three stick figures become a Band of Brothers thanks to honesty, brokenness, togetherness, grace, and second chances.
Life Outside the Machine, the most recent installment in the continuous narrative, is a record that investigates, confronts, and exposes the machines we find ourselves in (and need to escape from), as well as the ghosts who both haunt and travel with us.
Check out the exclusive interview below:
1. Can you tell us a bit about where you all come from and how it all got started?
CHRISTOPHER AMES BAND: Based out of Syracuse, NY Dan E. (Drums) and I have been together in this band since 2007 with Jabare (Bass) joining around 7 years ago. The band first started when I was doing a solo thing and wanted to be able to offer a "full band" option to venues (hence the not particularly clever name) – but it was soon obvious that the band was better than the solo thing, so we put the focus there.
2. Did you guys have any formal training or are you self-taught?
CHRISTOPHER AMES BAND: A mix. For me, guitar lessons in high school and then honing it as I go on stage. Dan E. comes from the school of Ringo and Jabare said he always knew he would be a bass player
3. Who were your first and strongest musical influences and why the name 'CHRISTOPHER AMES BAND'?
CHRISTOPHER AMES BAND: The band name is easy – early on I was doing the solo thing and the guys were backing me up in that. By the time we had really gelled as a band, the name had stuck.
Influences are as different as each guy but there is a lot of Beatles, Foo Fighters, and Tom Petty in there.
4. What do you feel are the key elements in your music that should resonate with listeners, and how would you personally describe your sound?
CHRISTOPHER AMES BAND: Things I aim for musically would be the melodies – do they get stuck in your head? And the riffs and rhythms- do they grab you right out of the gate? I want the songs to make you want to hit repeat. Then on top of that – meaningful lyrics and loud guitars!
6. What's your view on the role and function of music as political, cultural, spiritual, and/or social vehicles – and do you try and affront any of these themes in your work, or are you purely interested in music as an expression of technical artistry, personal narrative and entertainment?
CHRISTOPHER AMES BAND: I feel that artists are called to reflect their times, to document and process what they see – the good and the bad, the beautiful and the profane. The world we live in now is ripe for artists because events are happening so fast and so bluntly in our faces via social media and the 24 hour news cycle. Songs help us deal with and make sense of all that – they are definitely therapy for me as a writer.
7. Do you feel that your music is giving you back just as much fulfilment as the amount of work you are putting into it, or are you expecting something more, or different in the future?
CHRISTOPHER AMES BAND: That is a moving target. When I was younger, music was the vehicle (so I thought) to fame and money because that was what I wanted. What I have come to see is that fame and money (or the lack of it) exist outside the questions of fulfillment. What I look for when making music in this current season of my life and what I looked for at 22 are different animals.
But I will say that I have never had as fulfilling a creative experience as I have with this record. From the initial seeds of a vision to the work in the band room, to the studio and now to the promotion and performing, this is the best work I (and I believe Dan E and Jabare would agree) have done.
8. Could you describe your creative processes? How do usually start, and go about shaping ideas into a completed song? Do you usually start with a tune, a beat, or a narrative in your head? And do you collaborate with others in this process?
CHRISTOPHER AMES BAND: I think one of the best and hardest parts of being in the band is the iron sharpening iron kind of vibe. We (Dan E, Jabare, and myself) decided that if we were going to be a band, then we were a proper band and not a solo artist with backing musicians. So, songs, for example, I bring in the framework to something and then I give it to the guys, and they have free reign to experiment, to suggest changes, to alter it and to make the song their own as well. Hopefully, I have gotten better at keeping my hands off during that part of the writing process because the years of being solo are hard to turn down in my ears. But the end result has always been a better song, a better decision, a better band.
9. What has been the most difficult thing you've had to endure in your life or music career so far?
CHRISTOPHER AMES BAND: For me personally, the last record we did in 2018 (Emotional Tattoo) was steeped in the answer to this question. Those songs came out of my divorce and the death of my oldest son. As a songwriter, I have always mined my own experiences for material, and this was no different in that sense. But it was very different in the sense that the songs were therapy for me. Record or no record, band or no band, I was writing those songs to process and work through those events and their healing value was of more importance than their career value.
10. On the contrary, what would you consider a successful, proud or significant point in your life or music career so far?
CHRISTOPHER AMES BAND: My highlight with this band was probably the night we played the Release Party for this album. We did the show in the same venue that was our first gig back in 2007 and even though they no longer have live music, they opened it back up for us so we could book end our career to this point. To be on that stage with these guys, these songs and our friends in the audience – gold.
Members:
Christopher Ames – Guitar and vocals * Dan E Clausen – Drums * Jabare Mckinstry – Bass
KEEP IN TOUCH:
FACEBOOK | INSTAGRAM | TWITTER | SPOTIFY | BANDCAMP | WEBSITE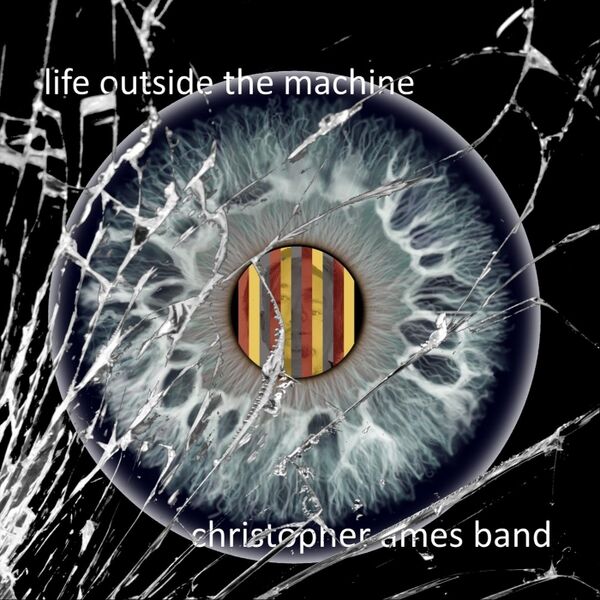 Photo credits: Robyn Stockdale of Graphik Nature Studios