Jennifer Alvarado is a singer/songwriter from Vale, North Carolina.
She published her debut country EP, titled "Playing with Fire," in April 2021. She is now working on her second album, titled "Songbird," which is scheduled to be released in the spring of 2022. In February 2022, she will release "Curious," her most recent song. With a pop undercurrent, her music has a country sensibility. Her voice is smooth and passionate, blending sweetness and power to create a satisfying sound for the listener. Her musical style reflects a diverse range of inspirations and is a fusion of country, pop, and blues.
She has received local accolades for her songwriting, and the Nashville Songwriters Association named her "One to Watch" in the spring of 2021. Top 10 Finalists for "Best Pop Song" and "Best Modern Country Song" in the Spring and Summer 2021 World Songwriting Awards, respectively, were her songs "IDWYB" and "Filthy Water." She was just recently recognized by Indie Star Radio as the "2021 Country Artist of the Year." Check out the exclusive interview below: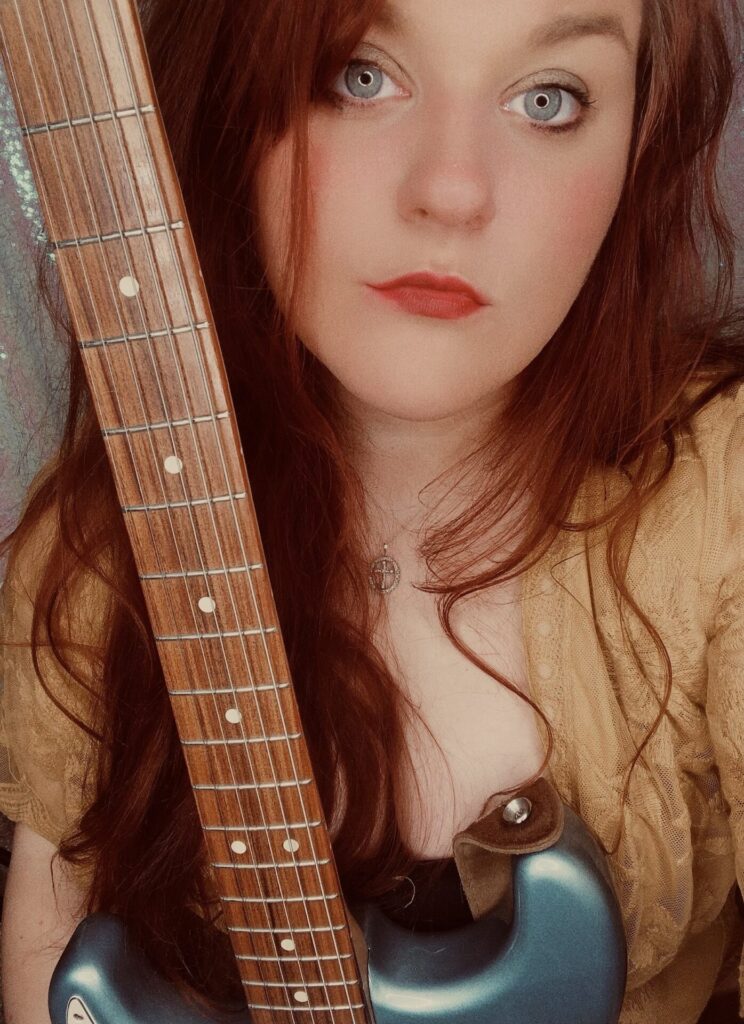 1. Can you tell us a bit about where you come from and how you got started?
JENNIFER ALVARADO: Sure!  I grew up in Hickory, NC…about an hour away from Charlotte.  I now live about thirty minutes outside of Hickory in a little town called "Vale." 
I have loved music since birth.  Around age four, I began writing little songs and I have wanted to be a singer since I was probably four or five.  My Pappaw played multiple instruments and I would play mandolin and guitar whenever I was at their house. 
I started in church choir around age 7 and by middle school, started performing in musicals, taking voice and guitar, and continuing to write songs.  During high school, I got really involved in the worship ministry at church and began leading a couple groups. 
2. Did you have any formal training or are you self-taught?
JENNIFER ALVARADO: Yes and no.  I played for years by ear.  That's how I learned to play guitar.  For singing, I would listen to everything under the sun…especially the powerhouse voices.  I listened to Wilson Philips to learn harmonies.
In middle school, I started suffer from severe performance anxiety, so I began taking lessons for voice and guitar thinking it would help.  I actually went to college on a scholarship for vocal performance and studied classical technique, but ended up changing my major after my Freshman year and stepping away from music for awhile.
3. Who were your first and strongest musical influences and why the name 'JENNIFER ALVARADO'?
JENNIFER ALVARADO: My biggest influences vary.  For songwriting, I really appreciate the skill of Patty Griffin and Taylor Swift. Both have a way of saying things in such a unique way that the lyrics stick with you.  Vocally, I've always admired Adele, Celine Dion, Martina McBride…anyone with a big voice, yet the tone is smooth.  Business wise, Reba McEntire is my biggest influence.  I admire her work ethic.  She is the definition of grit and being a powerful woman in this business. 
4. What do you feel are the key elements in your music that should resonate with listeners, and how would you personally describe your sound?
JENNIFER ALVARADO: I think the biggest key to my music is truth.  Even if someone cannot relate to every detail of your story, we all have similar fears, needs and ways of expressing ourselves.  We all have been disappointed at some point or fallen in love.  I've always wanted my music to serve as a conversation with the listener, so that they feel like they have someone that "gets it."
My sound definitely has a southern drawl and twang to it…mostly because of my accent and the fact I grew up listening and performing country music.  It is deeply engrained in me.  However, I also grew up listening to classic rock and pop/top40.  I like the guitars that usually are associated with classic rock and I love the energy of pop music.  I also appreciate blues, etc.
My tone is pretty sweet compared to most singers, but lyrically sometimes I can be rather dark.  Someone told me one time that I was an anomaly because my tone and music sound so sweet and then they listen to the lyrics and it's Alanis Morissette.
6. What's your view on the role and function of music as political, cultural, spiritual, and/or social vehicles – and do you try and affront any of these themes in your work, or are you purely interested in music as an expression of technical artistry, personal narrative and entertainment?
JENNIFER ALVARADO: I think music is one of the most powerful things we have as humans to help build bridges and also raise awareness.  I think if you feel strongly about something, then you should use your voice to speak up.  I've written songs in the past about standing up for what you believe.  I also started as a Contemporary Christian artist, so my faith has always been front and center with my music. 
Most of my music is storytelling.  It's my personal experiences with relationships, loss, etc. 
7. Do you feel that your music is giving you back just as much fulfilment as the amount of work you are putting into it, or are you expecting something more, or different in the future?
JENNIFER ALVARADO: From the very beginning, songwriting was how I expressed myself.  I am introverted and pretty shy.  Especially during middle school, I took the position of watching from the sidelines while everyone else lived life.  I learned to express myself through music.  I also learned to process situations through writing.  I say all this because I don't know where I would be without music.
I do not create music to be famous or win awards.  I do it for the joy of it.  I do it because I feel like it is what I was put on this earth to do and honestly, I do it for the eleven year old shy kid that felt like she couldn't relate to anyone.
8. Could you describe your creative processes? How do usually start, and go about shaping ideas into a completed song? Do you usually start with a tune, a beat, or a narrative in your head? And do you collaborate with others in this process?
JENNIFER ALVARADO: Sometimes I start with an idea.  However, I usually start with a melody or a hook and then build from there.  If I am going through a period of writer's block, I will usually have someone through out a word or topic as a challenge.  That's actually how "Rock This Way" was written.  I was going through a period of writer's block and decided to challenge myself by seeing how many of my favorite classic rock songs I could reference.
I write the quickest and most when I am angry or upset about something.  Those are usually the songs that I change very little in the end.
I love collaborating with other artists.  I recently collaborated with a band out of Canada named "The Whythouse" on a song called "Starz Collide."  There was a period of time where I refused to collaborate.  I had several of my songs changed without my permission when I worked with a writing group several years back and so I had to really work on being able to trust cowriters again.  I now know what to look for and how to protect myself from similar situations.
9. What has been the most difficult thing you've had to endure in your life or music career so far?
JENNIFER ALVARADO: The most difficult was probably a few years ago.  I was in a place professionally that was not healthy for me.  There was a lot of comparisons and criticisms that took place from people that I trusted.  It broke me and I went through a period of about two years where I just felt completely lost. 
However, I believe that all things can be used for good.  And I see now how much stronger I am for having gone through those trials.  It also helped me to see who is worth having in my life and who needed to be removed.
10. On the contrary, what would you consider a successful, proud or significant point in your life or music career so far?
JENNIFER ALVARADO: The most significant point in the past few years was probably when I decided to send my music to the first indie station – Indie Star Radio.  I was at my lowest and basically said "Okay…I'll send this in and if they accept it, great.  If they don't, I'm done."  They accepted it and actually said it was good.  From there I started healing and gaining my confidence to keep going.  And the rest is history:)
KEEP IN TOUCH:
FACEBOOK | INSTAGRAM | TWITTER | SPOTIFY | WEBSITE
Her upcoming project, titled "Songbird" is a very honest look at going through the painful period, the questions and insecurities that she was left with ,and then the moving forward, healing, and rebuilding. "Songbird: Part One" comes out on her birthday, July 24th!  And "Part Two" will be out in early Fall.
Here is a link to the pre-save:
https://distrokid.com/hyperfollow/jenniferalvarado/songbird-part-one