Maurice Moore sings with a passion and precision that feels like a nod to the golden era of R&B, coupled with a creative and eclectic sonic approach, he exudes an air of honest vulnerability and confident individuality, with his buttery vocal delivery, clever wordplay, unwavering ambition, and sophisticated genre bending. Maurice has been compared to a young Usher, Drake, and James Fauntleroy, a prolific songwriter. Moore has been dubbed "Canada's next breakout sensation" by Billboard, The Fader, BET, and the CBC as his profile continues to soar. On his first mixtapes, The Amber Room (executive produced by famed producer Troy Taylor – Whitney Houston, Trey Songz) and Destination Unknown, the Springfield, IL-born and Ottawa, CA-raised performer provides a fresh perspective to R&B and sports a charismatic signature sound.
Moore rose to prominence with the viral singles The Loudest Silence, In My Head, and C'est La Vie [2016], as well as composing and producing for H.E.R., Chris Brown, Justine Skye, Kiana Ledé, Eric Bellinger, and K-Pop stars such as NCT and Exo. It wasn't long before he caught the attention of Kehlani, a promising artist, and the two formed the TSNMI collective. Maurice established himself as one of the most promising upcoming musicians of a new era in R&B with standout performances at SXSW, on Kehlani's SweetSexySavage tour, and Ro James/BJ The Chicago Kid's "The R&B Tour." Check out the exclusive interview below: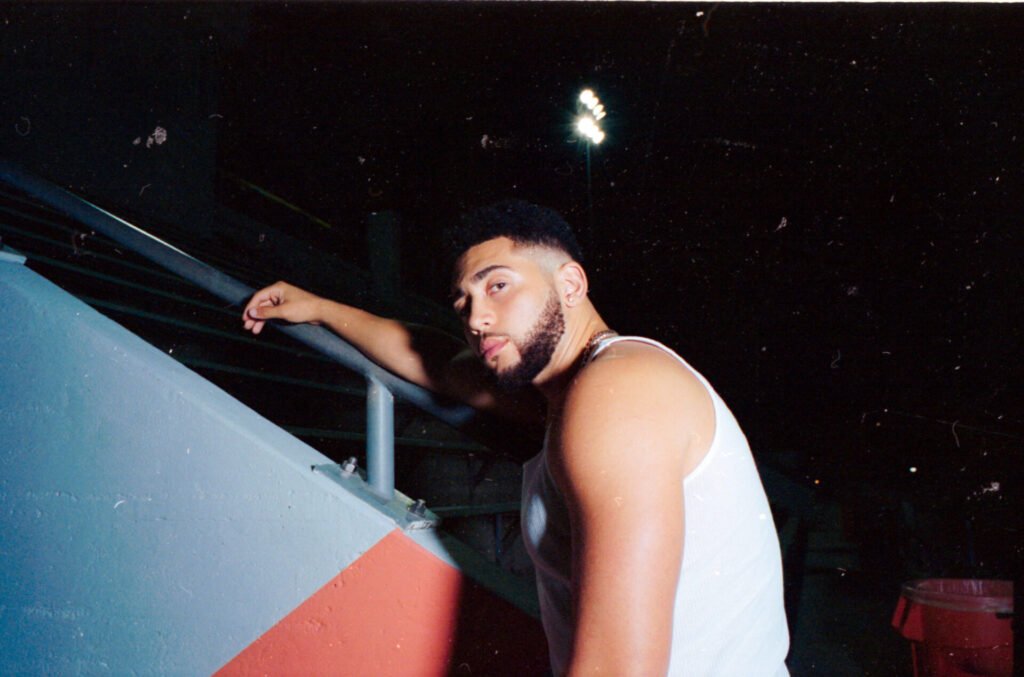 1. Can you tell us a bit about where you come from and how you got started?
Maurice Moore:
I was born in Springfield, IL and moved to Ottawa, Canada as a child where I grew up. My parents divorced when I was 6 and a few years later I found myself part of a blended family with 9 siblings. Me and my step brother Justin would experiment making beats on pirated software as kids and recording ourselves on the family computer, which was where the initial passion was born. By middle school I was making a name in the streets doing battles and cyphers and quickly built a reputation as one of the most exciting young artists in the city. That momentum led me to earning a grant from the city of Ottawa, honoring young entrepreneurs. With the money, I built a full on recording studio with my grandfather in my mothers basement that became the go-to spot for all of the dopest artists in the city – and the place where I would hone in on the sound that y'all know me for now. A few years later I signed with my first manager and we were off to the races!
2. Did you have any formal training or are you self-taught?
Maurice Moore:
 I never had any formal music training growing up. I was always surrounded by music whether it was my sisters singing, my grandfather playing guitar and writing songs, or at school where the social hierarchy was based on who the best freestyle rapper was lol. The internet along with thousands of hours of trial and error taught me pretty much everything I know.
3. Who were your first and strongest musical influences and why the name 'Maurice Moore'?
Maurice Moore:
As a child my mom introduced me to the music of Shania Twain who is still my all time favorite artist to date. Her music just captivated me emotionally and I became obsessed with figuring out how to make people feel what I felt listening to her. Other big influences growing up were 2pac, Chris Brown, Musiq Soulchild,  J. Cole, and Frank Ocean.
4. What do you feel are the key elements in your music that should resonate with listeners, and how would you personally describe your sound?
Maurice Moore:
I make music for people who, like me, have experienced just how shitty and dark life can be, but aren't willing to succumb to the bad hand we are dealt, you know, like we see the silver lining and are still optimistic in spite of that. I feel like people appreciate how vulnerable and honest I am in my music… the good, the bad, the dreams, and the fears are all on full display. My influences see no boundaries in genre and it leaks into my music… I think that gives my sound something unique that keeps people coming back to give them that special feeling.
6. What's your view on the role and function of music as political, cultural, spiritual, and/or social vehicles – and do you try and affront any of these themes in your work, or are you purely interested in music as an expression of technical artistry, personal narrative and entertainment?
Maurice Moore:
To me, artists have a very real and important role to play in society as the minds that challenge the status quo and bring forth new ideas and innovations to our world in a way that transcends language. Entertainment is obviously a component of what I do but underneath that I always try to incorporate my perspective on the world that I'm living in, in hopes that others can relate to it or gain insight into their own experiences through it.
7. Do you feel that your music is giving you back just as much fulfilment as the amount of work you are putting into it, or are you expecting something more, or different in the future?
Maurice Moore:
Being an artist alone brings me so much fulfillment, if I was the only person left on earth I would still be in complete awe of the magic I get to experience daily creating my art. In the future I see myself playing the biggest stadiums in the world and reaching every corner of the planet with my message and my music. It's always been bigger than me… in a world where we are surrounded by negativity and tragedy I want to be a light and voice for the people that need it most.
8. Could you describe your creative processes? How do usually start, and go about shaping ideas into a completed song? Do you usually start with a tune, a beat, or a narrative in your head? And do you collaborate with others in this process?
Maurice Moore:
I always get asked this question and to be real with you, it's different every single time. I think the consistent factor is that it is very spontaneous – sometimes I start by the piano, other times I am cooking up a beat or writing to a beat, or even just catching inspiration randomly and beatboxing sounds into a voice note that later becomes a song. I think of myself as a vessel and try to just stay open so when the inspiration hits I can let it be expressed immediately.
9. What has been the most difficult thing you've had to endure in your life or music career so far?
Maurice Moore:
Hearing no way more than hearing the word yes. The amount of doors that have closed in my face, times I've been backstabbed, used, or looked down upon is enough to seriously put someone into a lifetime of depression. I've had my low moments but my perspective has evolved a lot since I heard my first no. I like to think the path I've chosen has given me the ultimate journey of personal growth. The only guarantee in life is death and that is more than enough reason for me to keep going all in on what I believe in and what I love. The tests feel like life's way of teaching me to be more self-sufficient and to trust wholeheartedly in my mission and purpose regardless of what's happening around me.
10. On the contrary, what would you consider a successful, proud or significant point in your life or music career so far?
Maurice Moore:
The awards and accolades are always a blessing to receive and I've been fortunate to have numerous platinum records and recently just won the Black Canadian Music award which was a trip!! But I feel like the most memorable moments in my career so far have been interacting with my fans after shows and hearing how my music has had actual impact in people's lives, the stories I've heard have moved me to tears and that's honestly what makes all of this worth it. A close second is working with and receiving praises from my favorite artists and producers from Harvey Mason Jr. & Kehlani to Chris Brown & Jordin Sparks.
KEEP IN TOUCH:
FACEBOOK | INSTAGRAM | TWITTER | SOUNDCLOUD