Hard Rock band Scandal Tree was founded in 2019 and operates out of Brisbane and the Gold Coast. Rip Ryder, the band's resident tub thumper and founding member, had the idea in the beginning. Scandal Tree has undergone numerous changes over the years as members have joined and left for various reasons. However, the band has managed to stay together and in operation thanks to stalwart members Rip and Flaky, who occasionally remind one of Sean Kinney and Jerry Cantrell from AIC. Their tenacity, persistence, and zeal keep The Tree expanding.
BWS is a song that original vocalist, Jase and Rip, jammed on before the formation of Scandal Tree in 2019. BWS was written when both, Jase and Rip, worked in the liquor industry. They posed a deep and meaningful theological question. Is there really a party in hell, and if so, will there be beer and wine there? Check out the exclusive interview below: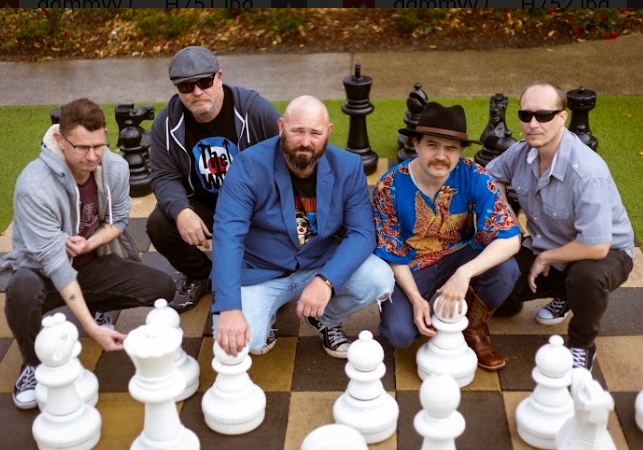 1. Can you tell us a bit about where you come from and how it all got started?
SCANDAL TREE: Scandal Tree is an Australian Hard Rock outfit formed in 2019 and running out of Brisbane and the Gold Coast. It was an original vision of founding member, Rip Ryder, the band's resident tub thumper. Scandal Tree has had many transformations in its time with members coming and going for one reason or another. However, with stalwart members  Rip, and Flaky always at the helm, & feeling a  bit like Sean Kinney and Jerry Cantrell from AIC at times, they have managed to keep the band functioning and together. Their resilience, perseverance and drive keeps The Tree growing.
2. Did you have any formal training or are you self-taught?
SCANDAL TREE: This one's an easy one. We're unanimously all self taught which allows for a certain freedom when writing songs as we're not bound by any musical conventions or laws. We play by feel and knowledge of what we know is catchy and works based on our own Musical influences.
3. Who were your first and strongest musical influences and why the name 'SCANDAL TREE'?
SCANDAL TREE: Dano our woodchuck was originally influenced by GNR and was inspired to play the drums after reading a music article on Steve Adler who taught himself. GNR were masters of catchy riffs, driving grooves and the outro piece. Grant finds a huge affiliation with AC/DC and 70s metal like Led Zeppelin and Deep Purple which shows in his guitar work. Jase our other guitarist is driven by the darker tones of Megadeth which is evident in his blistering solos. He also has a softer side with Cream and stoner rock/desert rock legends Kyuss. Finally, Joe, the time traveller as we call him,  has an eclectic mix of influences from the Beatles to The Clash, Depeche Mode, The Saints, Icehouse and includes artists like Waylon Jennings, Chuck Berry and The Monkees. Scandal Tree is a melting pot of a wide and varied number of influences that amalgamate as one to create the sounds you hear currently. Scandal Tree  came about while we were debating band names. It was one of our songs in the earlier days about a tree that grows and thrives on the gossip, malice, and defamatory things that people say in passing to another, indirectly or directly, that in time allows a negativity to grow creating real and often serious consequences for another. It's a personification of the bigger issues of bullying, abuse, coercive control that occurs in many different environments. Dano suggested it as a band name as it was so unique and had the potential to stand out and hold an ominous figure as a band name entity.
4. What do you feel are the key elements in your music that should resonate with listeners, and how would you personally describe your sound?
SCANDAL TREE: We have been likened to a blend of Alice in Chains meets Rose Tattoo or Airbourne which is a fair evaluation. We strive to create songs with depth and meaning. We work hard to make these songs unique and have their own personality. It's not about egos in the writing stages. It's about what's right for the song which means to us it's about what you leave out that makes a song. Sure you could add an extra fill here, another lead break there but is that for the benefit of the song?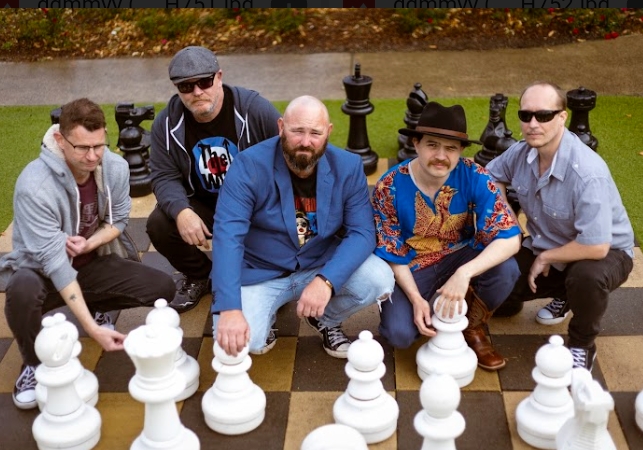 5. Creative work in a studio or home environment, or interaction with a live audience? Which of these two options excites you most, and why?
SCANDAL TREE: It's always great to play live and get to meet fans in person but being in a studio is magical. The notion that you're creating a permanent recorded document that people will hear for years to come is exciting. As you don't have to consider playing that particular document live, there's a great freedom and thrill from making it as distinctive and as snappy as possible, whether through overlaying guitars or adding  sound effects and percussion overdubs.
6. For most artists, originality is first preceded by a phase of learning and, often, emulating others. What was this like for you? How would you describe your own development as an artist and music maker, and the transition towards your own style, which is known as ROCK?
SCANDAL TREE: We are all influenced by different music and musicians which you emulate when you're learning and finding your way in the music world until you discover yourself and who you are as a musician. Forming an originals act is finally realising that your, your own musical entity with your own vision and direction. We try not to emulate anyone but I guess it's inevitable that people will hone in on elements that remind them of a particular band to form a connection with what we do musically. These days we try to steer clear of covers and if we do we damn well make sure we put our spin on it and make it to some degree distinctly Scandal Tree. We hate the idea of being pigeon-holed as we're all our own creative forces in our own right. Our influences definitely guide our learnings but our creations are solely a result of our diverse experiences and knowledge.
7. What's your view on the role and function of music as political, cultural, spiritual, and/or social vehicles – and do you try and affront any of these themes in your work, or are you purely interested in music as an expression of technical artistry, personal narrative, and entertainment?
SCANDAL TREE: Music has many faces to us with varied purpose and voices. We try not to get too religious or political but sometimes these themes may creep in. Many of our songs are just about life and the everyday struggles people face as we try to negotiate the complexities of this game they call life. Music is about entertainment and connecting with people, so having a personal narrative is important and being able to be recognised as people with a soul & conscience allows listeners to get a glimpse into your mind and transport them on a journey of self discovery alongside the band. We grow together with the music.
8. Do you feel that your music is giving you back just as much fulfillment as the amount of work you are putting into it or are you expecting something more, or different in the future?
SCANDAL TREE: Music isn't about money or fame. It's a deeply personal thing and a connection with self. A way to freely express oneself emotionally, and intellectually. There's a power in music to heal and is great for building a strong mental health wellness. If you're in it for something more such as money, then you're in it for the wrong reasons from the start. Don't get us wrong, if your music happens to be heard by the right person at the right time and place, and it takes off then that is a wonderful recognition and experience. However, music is about giving something meaningful back to its listener. It's a special gift and has a responsibility to inspire and guide people. It's simply nice to have our music out there and be appreciated.
9. Could you describe your creative processes? How do usually start, and go about shaping ideas into a completed song? Do you usually start with a tune, a beat, or a narrative in your head? And do you collaborate with others in this process?
SCANDAL TREE: In Scandal Tree we all are capable song writers and composers. Dano will usually have a song written with a drum beat, structure and vocal line when presenting a song to the group. Grant, Jase and Joe bring along guitar riffs and structures in various stages of creation. Sometimes we just get in a room and jam to see where the mood takes us recording notable pieces that we deconstruct and workshop later. We generally read each other very well and have this symbiotic thing going on where we can preempt where each of us will go and take a tune. I guess we're a bit old school and we always collaborate with one another. A song that is brought to the Scandal Tree song writing machine will go through the churner. It'll come out the otherside different from where it began. We all add our own artistic flair and ideas to the piece. It's a wonderful process to see a song in its infancy grow into something epic by the time we've workshopped it as a group.
10. What has been the most difficult thing you've had to endure in your life or music career so far?
SCANDAL TREE: Finding a symmetry, as we are all older guys and  life can often intervene and take members out of our circle to pursue other endeavours and family. Changes in musical direction and differences in the creative process. We have had several line up changes in the band since forming in 2019. We recently had to say goodbye to our vocalist Matty and guitarist Wayne due to work commitments, and wanting to pursue another musical direction. I suppose time and age are the real challenges for us and maintaining a drive as a group no matter who's a part of Scandal Tree now and into the future to keep the dream alive and relevant.
11. On the contrary, what would you consider a successful, proud or significant point in your life or music career so far?
SCANDAL TREE: The fact that we as a group keep moving forward despite the changes and we are still going. Being able to release our music globally, play live and have a voice is something we should be proud of…that we keep pushing the envelope and challenging ourselves at our age. We're resilient and strive to be the best we can be which is evident in our releases. We keep it real and that to me is our true success
12. With social media having a heavy impact on our lives and the music business in general, how do you handle criticism, haters, and/or naysayers in general? Is it something you pay attention to, or simply ignore?
SCANDAL TREE: …….
13. Do you think is it important for fans of your music to understand the real story and message driving each of your songs, or do you think everyone should be free to interpret your songs in their own personal way?
SCANDAL TREE:  On one hand, it's a shame that a lot of people don't want to think for themselves and need to be told what to do or how to think. On the other hand, there are those out there who'll naturally have different perspectives on songs. One song we have planned for recording "Knives Out" came out in a jam session and according to Joe, the sound was a cross between Motorhead and Duran Duran.
KEEP IN TOUCH:
FACEBOOK | INSTAGRAM