Andy Vought is a Norfolk, Virginia-based singer-songwriter. He writes original songs, plays all instruments (save drums) on his CDs, and produces them himself. Andy went to Harrisonburg, Virginia in 2021 for family reasons and because Covid allowed him to work from home, but it also functioned as an attempt to get closer to nature and the outdoors. As a long-time meditator, he considers outdoors to be a wonderful place for both meditation and music. Andy's voice is the voice of sanity in today's chaotic and terribly divided America, fighting with, accepting, and breaking through neurosis.
He doesn't compose frivolous music since life is too short and he doesn't want to squander the listener's time. In a musically oversaturated sea where it's practically impossible for the independent artist to be heard, Andy's lyrics and voice stand out, delivering more than just warm pleasant melodies and well-thought-out compositions, but also an embrace of healthy expressions of truth that are so difficult to discover. He is pleased about his upcoming record, which will be released in 2022. It underlines that even in the middle of chaos and confusion, there is an inner-assurance that we can all carry with us if we are just willing to acknowledge it and listen despite all the distractions. Check out the exclusive interview below:
1. Can you tell us a bit about where you come from and how you got started?
ANDY VOUGHT: I grew up in Norfolk, Virginia where I have lived most of my life. I have played piano since I was in third grade, but didn't start recording on a 4-track until after I graduated from college. Once digital audio workstations developed, I switched to recording on the computer.
When I first started recording on a tape 4-track when I was in my twenties, it was kind of like keeping a personal journal where I would record a song almost every day or every other day. I think because of the way I was recording and mostly keeping it to myself, that even now, my music has retained that more introspective quality. I never imagined when I started writing and recording that I would be sharing my songs over the internet with people in far away places.
I would also mention that when I started sharing my music online, I had no ideas about playing live and that also has mostly remained true for me. I have played live solo acoustic but really I'm more drawn to writing and recording.
2. Did you have any formal training or are you self-taught?
ANDY VOUGHT: I took private piano lessons for years as a kid. I learned enough from those years to build a pretty solid foundation as far as piano technique and understanding how to read music.
When I was in sixth grade I learned how to play the acoustic guitar at summer school. Eventually some friends of mine and I started playing together as a band in high school. My social life back then revolved around skateboarding and playing electric guitar with the band. By that time, I was learning all music by ear as we were playing a lot of cover songs. If there was a song we wanted to play, it wasn't difficult for me to pick it up pretty quickly just by listening.
Beyond all of my musical experiences when I was younger, I have developed my own way of composing music and also picked up more of a fingerpicking acoustic guitar style along the way. I have also more recently started writing songs on the piano which suprisingly I had never done before. I had always written songs on the guitar, but once I was able to afford a full-size piano keyboard, it opened up more songwriting possibilities.
3. Who were your first and strongest musical influences? Since I'm an 80's kid, I was influenced early on by so much of popular music that was coming out during that time which would be artists like David Bowie, Men At Work, The Police, Hall & Oates, Prince, Michael Jackson, Genesis, and Rush. The first rock concert I went to see was Men At Work at Norfolk Scope. Also, my older brothers would play the Beatles a lot on the piano or I would go and listen to albums they had on vinyl as well so there were some 70's influences too. My dad listened to nothing but classical music while my mom was more into easy listening so I had quite a lot of different musical influences and many different phases that I went through. It wasn't until I got older that I really started digging into the 60's and 70's influences and also I developed more of a taste for artists on indie labels. By the time the 90's came around I was searching more and more for underground music and was a lot less interested in mainstream music.
4. What do you feel are the key elements in your music that should resonate with listeners, and how would you personally describe your sound?
ANDY VOUGHT: What's surprising so far in reading some of the reviews of Standing With Trees is how the lyrics are barely acknowledged when in reality, I consider the lyrics to be just as important as the music at this point. If there is hesitation in other people addressing or trying to make sense of the lyrics, it may be because of their spiritual subject matter. I didn't always write like that because lyrics were more of an after-thought in my writing early on. So because I try to make music that is easily accessible and enjoyable to listen to, it can be easy to get caught up in the sound and tune out the lyrical content.
The acoustic guitar and voice has been the foundation of my sound and beyond that, everything else is pretty much added on. It's easy to say that what I do is indie-folk, but that's a somewhat limited way of hearing it when there's a lot more going on than just "folk music." My recordings tend to have lots of instrumentation and layers to them.
There are also some classical and slight jazz influences going on too which is why I like to use some orchestral sounds like flute, oboe, clarinet, and so forth. Because of the electric guitar, bass and drums, one could also say there's a strong element of folk rock going on too. So that's why it's hard to pin my sound down other than to say it's singer-songwriter based, but what I really try to push overall is composition more than just having a decent sound. There is an element of unpredictability in how I compose. I don't want to just write predictable verse, chorus, verse songs because that just gets really boring.
5. For most artists, originality is first preceded by a phase of learning and, often, emulating others. What was this like for you? How would you describe your own development as an artist and music maker, and the transition towards your own style, which is known as FOLK?
ANDY VOUGHT: When I first started recording, my moniker was Lucid Evening Sky, and I was making what some might call alt-country simply because of the acoustic guitar and Telecaster twang, but indie shoegaze and Britpop bands also had a strong influence. The acoustic guitar and fingerpicking style in particular became more of a central focus of my sound once I started recording under my own name. I was emulating a lot of fingerpickers such as Sun Kil Moon, Nick Drake, Elliott Smith and even challenged myself to learn some Tommy Emmanuel songs which are very difficult but helped me stretch my abilities and composing as well. I experimented a lot with alternate tunings too. About half of the songs on Standing With Trees use alternate guitar tunings.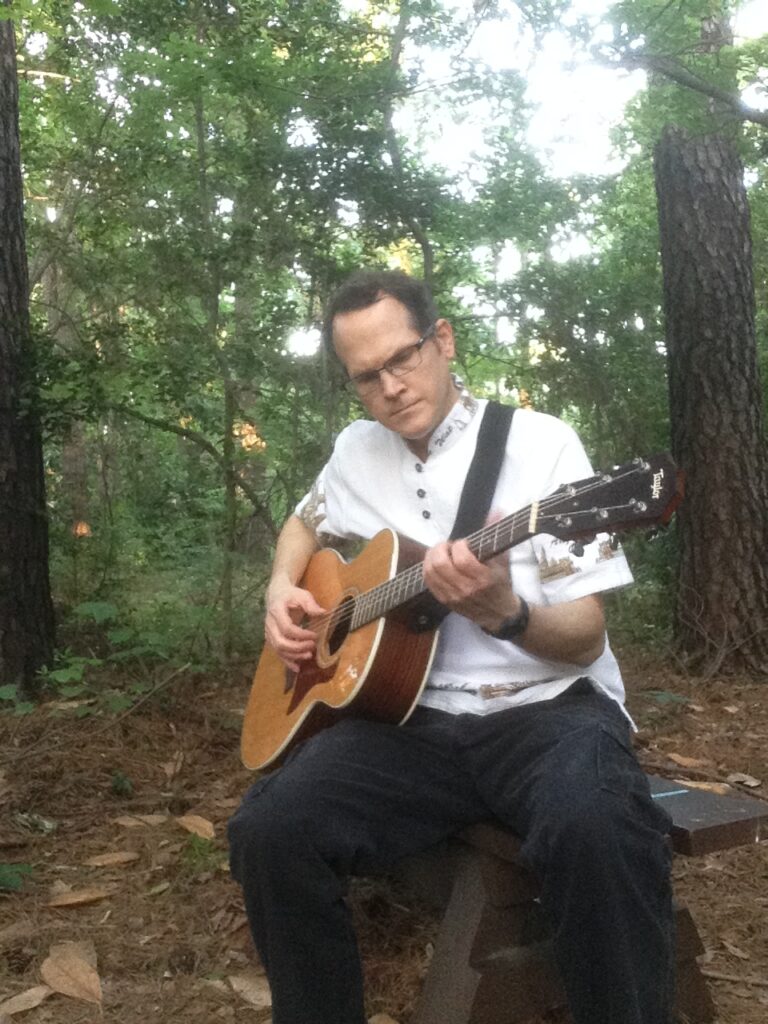 7. Do you feel that your music is giving you back just as much fulfilment as the amount of work you are putting into it, or are you expecting something more, or different in the future?
ANDY VOUGHT: I think there are two ways of answering this question.  From a business standpoint, I should have quit making music a long time ago. I've never made any money from it and lose money every time I invest in things like mastering services, equipment or having albums made. Many times I have questioned if I should quit making music, but when I actually try to quit, I find I get pretty depressed and feel like my life has no purpose. So regardless of whether or not I'm successful at it from a business point of view, it's kind of irrelevant to me and to why I started writing songs in the first place. I continue to make music because it's a world that makes sense to me while the rest of life can feel pretty mundane, confusing, and uninspired in comparison, but that's also why I keep a spiritual practice going too so that I don't hit overwhelm and keep things in perspective.
If music isn't giving back as much as I put into it, it probably has very little to do with the music itself and probably has more to do with the business side of it, but that's something I just can't be too involved with. Many of the business people involved in mainstream music in particular don't really care about artists' well-being and I'm not going to just play the futile game they want me to play.
8. Could you describe your creative processes? How do you usually start, and go about shaping ideas into a completed song? Do you usually start with a tune, a beat, or a narrative in your head? And do you collaborate with others in this process?
ANDY VOUGHT: I usually start writing on either the guitar or piano and play around until I get a feel for where the song is going and how it's going to shape up before I attempt any lyric writing. Once I have a good feel for the emotion of the song, then I'll start writing lyrics in a very loose stream-of-consciousness kind of way without any shape or form but maybe have a general idea about a topic or theme. I keep the lyrics separate from the music until I basically have very loosely structured lyrics. I'll also develop a general idea of how the main melody will go and once I reach that point, that's when I start doing major editing to the lyrics to fit the song. I find that doing it this way allows me to give the lyrics my full attention so I can say exactly what I want to say and not just try to fill space in a song with words that sound good. There's a lot of lines that don't make it into the song when I'm done, so it feels like I have a lot to choose from when I'm crafting the lyrics.
I play all the instruments myself and have not felt a strong desire to collaborate although it could be fun if it was someone I really liked working with.
9. What has been the most difficult thing you've had to endure in your life or music career so far?
ANDY VOUGHT: I think one of the most difficult things has been watching the value of recorded music be destroyed. It still needs to be fixed, but I'm skeptical it ever will be because there are too many soulless and greedy people in the industry and even outside the industry who think that artists don't deserve to earn a living from their art. They just want to keep cracking the whip and expecting artists to do more and more while they do less and less and profit off of those artists. For example, I'd rather spend time making music than being on social media and advertising myself, which I see as distracting. I've also noticed how it's a privilege for some artists to not have to be on Twitter because obviously they don't want to be on there too much. I don't think any of the struggling and talented unknown artists making music out there should feel obligated to throw their mental health away just to try to be heard or recognized.
10. Ending on a lighter note, in what way do you consider yourself successful as a artist?
ANDY VOUGHT: Every album I complete is a minor miracle, and Standing With Trees is an album I'm very proud and thankful to have made. There were many delays along the way and I had to record in less than ideal conditions at times, and sometimes I just didn't have the money to spend to keep the project moving along. The album is speaking from the heart and from the Dharma which is just another word for truth and it's important that the truth gets expressed in what I do. I'm always very aware that every album could be my last album, and if I die before making another one, I'll be glad I got this one done.
KEEP IN TOUCH:
FACEBOOK | TWITTER | SPOTIFY | BANDCAMP