Sydney Gordon, a native New Yorker, has been enthralled by music for as long as she can remember. At a very young age, her parents became aware of her incredible singing abilities and pushed her to pursue music. At age 7, she began taking singing and piano classes. Sydney's love and commitment to singing by the age of 12 led her parents to hire a vocal coach to assist her hone her voice and work on singing methods. Sydney was asked to perform a live act at The Bitter End, a nightclub in New York City's Greenwich Village, in less than a year, when she was just 13 years old.
The fact that Sydney's maternal great grandpa, a vocalist, had his own live radio show in New York City, did not surprise her family. Sydney began writing and co-writing original work at the age of 15, when she was still in high school. She is more than ready to make a mark on the stage with her pop-ready tunes after devotedly developing her art over the past several years!
Sydney Gordon and her band perform live once a month at The Bitter End, which has evolved into a performing residency. Check out the exclusive interview below: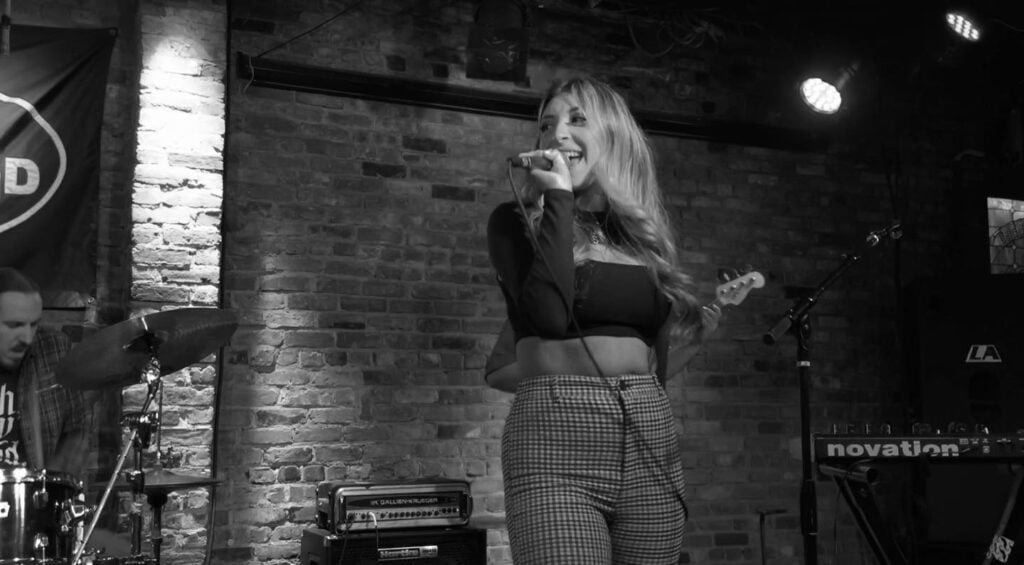 1. Can you tell us a bit about where you come from and how you got started?
SYDNEY GORDON: I'm from Staten Island, New York. I've always loved music from a young age. I began studying piano around age 7 and not too long after that I began working with a voice coach. I knew that I wanted to pursue music when I started to write my own songs.
2. Did you have any formal training or are you self-taught?
SYDNEY GORDON: Yes, I have been working with a voice coach since the age of 10. And I have taken piano lessons.
3. Who were your first and strongest musical influences and why the name 'SYDNEY GORDON'?
SYDNEY GORDON: Christina Aguilera and Miley Cyrus were my first and strongest influences. And Sydney Gordon is my given legal name J
4. What do you feel are the key elements in your music that should resonate with listeners, and how would you personally describe your sound?
SYDNEY GORDON: Uplifting and sensual!
6. What's your view on the role and function of music as political, cultural, spiritual, and/or social vehicles – and do you try and affront any of these themes in your work, or are you purely interested in music as an expression of technical artistry, personal narrative and entertainment?
SYDNEY GORDON: My music is not political, cultural, or spiritual. I create as a form of self-expression, and I want to make people feel good!
7. Do you feel that your music is giving you back just as much fulfilment as the amount of work you are putting into it, or are you expecting something more, or different in the future?
SYDNEY GORDON: I'm very fulfilled when it comes to performing and writing music. Making people feel good and speaking to them through my music is what makes me happy!
8. Could you describe your creative processes? How do usually start, and go about shaping ideas into a completed song? Do you usually start with a tune, a beat, or a narrative in your head? And do you collaborate with others in this process?
SYDNEY GORDON: I usually start writing songs at my piano but sometimes I'll hear something in my head, and I'll do a quick voice memo on my phone. I also will write down random lyrics or ideas in my notes. It really depends on my mood haha. And I LOVE TO COLLAB! I really enjoy suggestions and input from other writers.
9. What has been the most difficult thing you've had to endure in your life or music career so far?
SYDNEY GORDON: A difficult thing I used to experience was anxiety while performing. I've always loved music, but it was difficult for me to get past this feeling when I was younger. I struggled with this for years and it took a lot of time for me to get comfortable in front of an audience.
10. On the contrary, what would you consider a successful, proud or significant point in your life or music career so far?
SYDNEY GORDON: I think the turning point for me was the release of my first single Chains this past January. I'm very proud of that track!
KEEP IN TOUCH:
FACEBOOK | INSTAGRAM | TWITTER | SPOTIFY | TIKTOK
Check out "Too Close," a dreamy pop-trap song by Sydney Gordon