Virgin Orchestra is a Reykjavk-based experimental post-punk band. While their individual styles are very different from one another, they share the same vision. They first became friends while studying in the music department of the Icelandic University of the Arts. Their sound combines post-punk with electronic, noise, dreampop, and other genres. They draw on a variety of diverse influences, including Dmitri Shostakovich, Delia Derbyshire, My Bloody Valentine, The Cure, and more. The ensemble's distinctive sound, which combines the live instruments of guitar, cello, bass, and vocals with programming and other experimental soundscapes, is a result of the combination of their diverse musical backgrounds.
They have only so far released one single, "on your knees/give in," and it has received favorable reviews both domestically and internationally. The song has been played on Iceland's national radio several times and has been discussed on numerous podcasts and online radio programs from other countries. They were interviewed by the Icelandic radio program "látagarur," which focuses on the country's independent music scene.
They spent a month in Berlin this summer, where they recorded their debut album with a fantastic local audio engineer and producer duo and played their first-ever live show. The album is expected to be released by the end of the year. Since then, they have performed at a number of additional performances in local, small independent venues. Numerous record labels have contacted them, and they are currently in negotiations with Smekkleysa, the biggest independent record label in Iceland. Check out their debut single "on your knees/give in" and the exclusive interview below:
1. Can you tell us a bit about where you come from and how it all got started?
VIRGIN ORCHESTRA: The band was formed after we met in the music department at the Icelandic University of Arts. Originally, we were more of an avant garde band, but after discovering a mutual love for post-punk we quickly shifted into that direction. After a few months of operating as a two piece band, we met Rún, and the band's line-up as it is now was formed.
2. Did you have any formal training or are you self-taught?
VIRGIN ORCHESTRA: We are all finishing our bachelors degrees in music at the Icelandic University of Arts. Starri and Stefanía are in new media composition and Rún studies classical cello. Starri has received some training on guitar but is mostly self-taught. Stefanía is completely self-taught on bass although she has a degree in sound engineering and has been studying singing and performing since her teenage years.
3. Who were your first and strongest musical influences and why the name 'VIRGIN ORCHESTRA'?
VIRGIN ORCHESTRA: The first main musical influence for the band was The Cure, and the first thing we did together as a post-punk band was recording a 9 minute cover of A Forest, which might be released some day. But really, our influences are all over the place: Joy Division, My Bloody Valentine, Delia Derbyshire, The Velvet Underground and Dmitri Shostakovich just to name a few. The name virgin orchestra actually comes from a misunderstanding. Stefanía and Starri were sitting in a bar after a songwriting session and were trying to come up with a band name, and it was very loud in there so we could barely hear each other. And Stefanía said something which Starri misheard as "virgin orchestra" and we thought it had a nice ring to it so we went with it. Although neither of them can remember what the original suggestion was.
4. What do you feel are the key elements in your music that should resonate with listeners, and how would you personally describe your sound?
VIRGIN ORCHESTRA: To describe our sound is tricky. At the foundation of it there are bright post-punk-y guitars that often border on noise, dream-like vocals, experimental use of synthesizers and programming platforms such as SuperCollider and then a classically played cello which gets distorted to the point of it sounding completely different from how it should sound. When all of these diverse elements are combined, you get the sound, which we would describe loosely as experimental post-punk.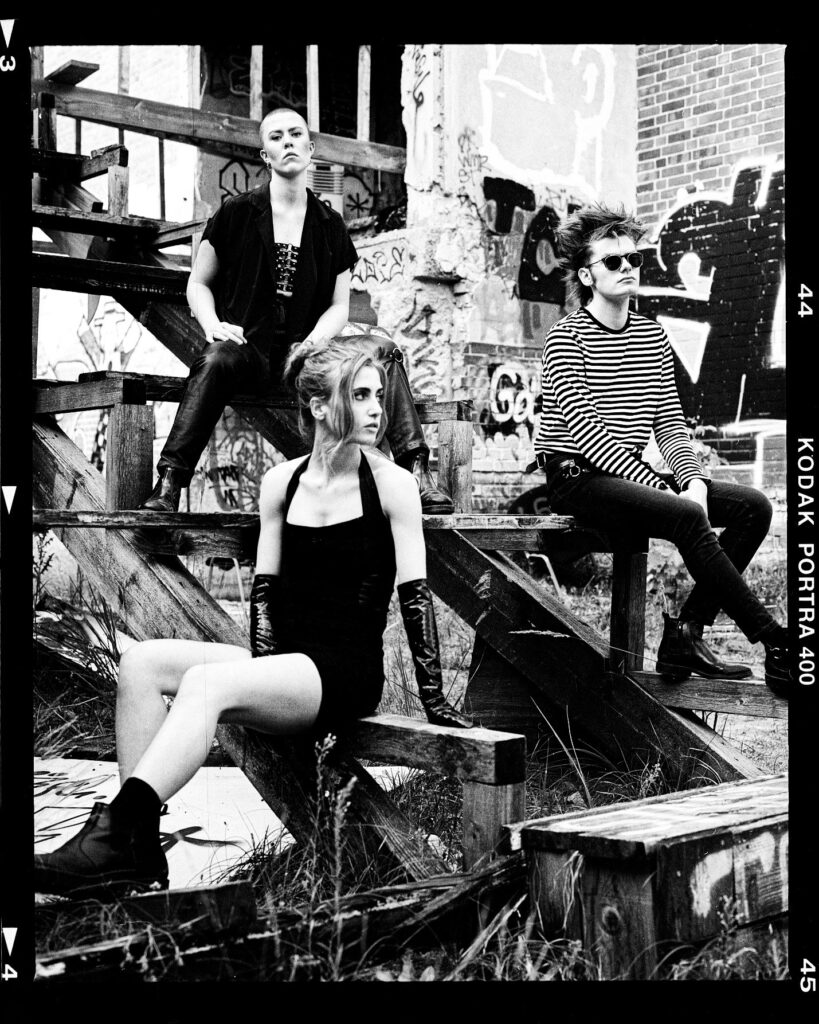 5. For most artists, originality is first preceded by a phase of learning and, often, emulating others. What was this like for you? How would you describe your own development as an artist and music maker, and the transition towards your own style, which is known as INDIE?
VIRGIN ORCHESTRA:
Initially, we were very post-punk focused but then the more we worked together, different elements started creeping in, and all of a sudden we had this sound which was this combination of all of these different things. In that way, we evolved very fast from the original emulation stage, but it wasn't a deliberate change, it just happened quite naturally.
6. Do you feel that your music is giving you back just as much fulfillment as the amount of work you are putting into it or are you expecting something more, or different in the future?
VIRGIN ORCHESTRA:
We feel that we are definitely getting back what we put in. Ever since we started to go into this band full-on we have received more and more attention and praise. Not to mention, just the act of putting a lot of work into something is fulfilling in and of itself.
7. Could you describe your creative processes? How do you usually start, and go about shaping ideas into a completed song? Do you usually start with a tune, a beat, or a narrative in your head? And do you collaborate with others in this process?
VIRGIN ORCHESTRA:
Most of the time a song starts by someone bringing in an idea. Whether it's a beat, a riff, a synth line, or even a full skeleton of a song. If it's only a section of a song we will get to thinking how it should evolve and how the song should be arranged. When it's a more or less full song idea that gets brought in, we will all pitch in with ideas for what each of our instruments should play in the song, and more often than not we will also re-arrange the song structure to something that makes most sense for all of us.
8. What has been the most difficult thing you've had to endure in your life or music career so far?
VIRGIN ORCHESTRA:
Waiting. Releasing an album with a label is a process that includes a lot of people and things need to be done in the right order of course, but sometimes we can be horribly impatient. It can be hard having a million song ideas and demos that you really just want to throw out asap. But we really love our label Smekkleysa! They have been great.
9. On the contrary, what would you consider a successful, proud or significant point in your life or music career so far?
VIRGIN ORCHESTRA: We are probably the happiest with the general response to our music, especially from Smekkleysa, which is our label. They have been extremely supportive throughout the process. But really, just the amount of positive response we have received from fans or people who just stumbled upon our music by coincidence has been extremely rewarding, and we feel very grateful for that.
10. Do you think is it important for fans of your music to understand the real story and message driving each of your songs, or do you think everyone should be free to interpret your songs in their own personal way?
VIRGIN ORCHESTRA: Stefanía: As the main lyric writer I think the fans need to be able to interpret the message however they feel like, make their own version of the story. But then, sometimes I'm not sure myself what I'm trying to say but I know how the message feels – then that is what I try to channel. The feeling of it all.
KEEP IN TOUCH:
FACEBOOK | INSTAGRAM | SPOTIFY | BANDCAMP | WEBSITE | YOUTUBE
Photo credits: Eilidh S. O'Brien