SSeason Of Mist signs VÉVAKI and releases a new song and video 'Jötnablót'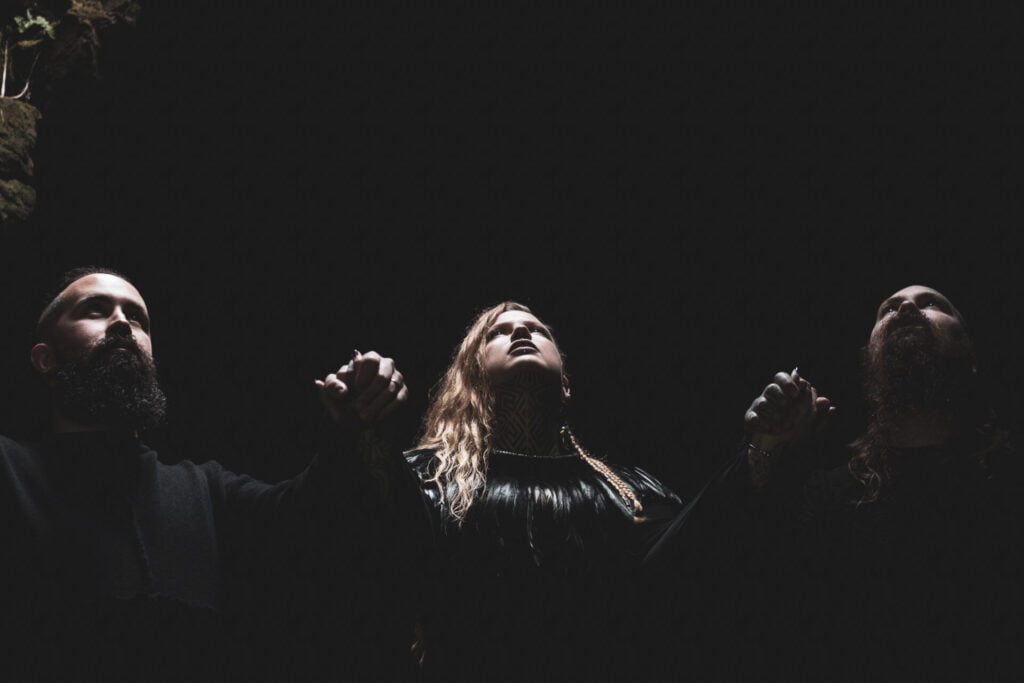 Season of Mist is pleased to announce the addition of Vévaki, a gloomy neo-folk band. Season of Mist will release the band's second album, Fórnspeki, in the fall of 2022. The band is releasing a new track, "Jötnablót," along with a music video, to commemorate the signing. This is where you can find the song and video:
Vévaki's reaction to the signing: "We are overjoyed to be a part of the Season of Mist family. All we could aim for is to be a member of a label that values artistic freedom and encourages artists to be themselves. We are eager to continue our ritualistic works and share our vision with the rest of the globe."
Vévaki is a folk band that draws on Nordic heathenism and animistic traditions. It began as a solo project for vocalist and multi-instrumentalist Will Hunter. Vévaki's music is informed by myth, ritual, and a connection to the natural world, and it is both contemporary in sound and instruments.
Vévaki's debut album Edda was released in 2020, when the band was still a solo project with collaborations from Sigurboi Grétarsson and Florian Baudrain. Edda takes its inspiration from the Poetic Edda, a compilation of Old Norse poetry that breathes fresh life into these stories through a musical journey that is both beautiful and hypnotically heady.
Fórnspeki, Vévaki's second album, sees the band extending their style while remaining true to their folk roots and traditions. Sigurboi Grétarsson, Gsli Gunnarsson, and Hrafnhildur Inga Gujónsdóttir have all joined Vévaki as full-time members. Will describes the new material as "broader and more mature sounding."
Will observes, "Vévaki is very much founded on our modern heathen tradition." "Sigurboi and I had been performing music together for a time and had incorporated it into our personal spiritual practices. We had collaborated on a few songs before, but they were all very personal. After that, we held a jam session in an Icelandic cave and attempted to record a song. I asked Sigurboi if he would be on it, and he happily agreed. After that, I went home and recorded a song, which we forwarded to Danheim (a Danish folk musician), who signed me to his internet record company. That's how Vévaki got its start. From there, we made an entire album.
Even though he wasn't an official member of Sigurboi, he was highly featured on it. But he did a lot of drumming, singing, and other stuff."
Vévaki use a variety of stringed instruments and percussion throughout their music, which is lifted by the complimentary vocal styles of Will, Sigurboi, and Hrafnhildur, as well as Gsli Gunnarsson's cinematic soundscapes. On Fórnspeki, this comes to the fore.
"We went a little bigger," Will explains. "We began work on the second album after bringing in Gsli, and the sound has evolved significantly, I believe. It's a lot more refined now. Gsli is, in my perspective, the glue that ties us together. He has a background in modern classical music. And Hrafnhildur was an obvious candidate for bringing in a strong female presence. I believe her voice has a healing quality, and this is a major theme on the new album."
Fórnspeki is structured by ritual and spiritual practices. Will explains, "Our practice is really animistic." "However, you don't have to be very spiritual to have a sense of connection to nature." And all we ask is that whoever is listening finds some type of connection with our music.
Sigurboi continues, "'Fórnspeki' was written with this idea of ritual and performance in mind. Because the songs are imagined in this way, there will be a performance and ritual on stage. And some of the songs were inspired by or developed by rituals that we've performed. The song 'Dsablót,' for example, is based on a rite that we would do. It contains a number of chants that we would use, and we hope that it would inspire others. We have a lot of original lyrics on our new album. However, it is based on both myth and practice. It's not just about the gods; it's also about the rituals and worship."
Vévaki is a flexible and inventive project that uses a variety of traditional and contemporary equipment.
"We're not aiming for historical accuracy," Sigurboi clarifies. "We're not bound by the notion that it must be a Nordic instrument. We're not Norsemen. We are neither Shamans nor Priests. We are the practitioners, ordinary people who make the gifts."
Will adds, "We're attempting to move away from the Viking theme. For modern beliefs, there are modern songs. That is something we place a lot of focus on."