Wai Lana's music video "She Speaks Sign Language" encourages environmental stewardship.
Wai Lana has picked International Yoga Day to unveil her latest music video, much to the joy of her admirers. She Speaks Sign Language is a visual masterpiece that exemplifies the planet's magnificent beauty and power. Wai Lana takes viewers on a captivating journey across the beauty of vast deserts, gleaming ice caves, luscious flowery meadows, and towering mountain summits. The Great Wall of China and India's Kusum Sarovar are two prominent and historic attractions that viewers may know.
"We painstakingly selected a variety of settings for this music video, beyond only places of natural beauty," Wai Lana remarked. I wanted to try something different, and after all, man-made structures are a part of the planet's scenery as well.
We can all choose to live in harmony with Mother Earth, whether in the city, the woods, or on the seas."
Wai Lana hopes that through releasing this new music video, she will be able to honor and give voice to Mother Earth, as well as raise awareness about the need of environmental protection. She explained, "She Speaks Sign Language is my attempt to encourage others to safeguard our Earth." Wai Lana hopes that her new music video will contribute, even if in a tiny way, to developing environmental stewardship around the world, by building on the increased environmental awareness of recent years.
She Speaks Sign Language promotes an understanding of our reliance on Mother Earth and shows the severe repercussions of living in conflict with nature.
With lines like "…how do we treat our darling mother?" and "…how do we treat our dear mother?" "Are we going to throw her to the ground?" Wai Lana emphasizes that it is our responsibility to act as stewards of the planet, just as we naturally respect and care for our own mothers.
"The tremendous amount of stuff I wanted to portray made it exceedingly tough," Wai Lana remarked of the conception and production of She Speaks Sign Language. Even once I was satisfied with the words, there was still too much material that didn't suit with my preferred musical style. Fortunately, I work with some extremely brilliant musicians, and we discovered that electronic music, which is a new genre for me, complemented the lyrics perfectly."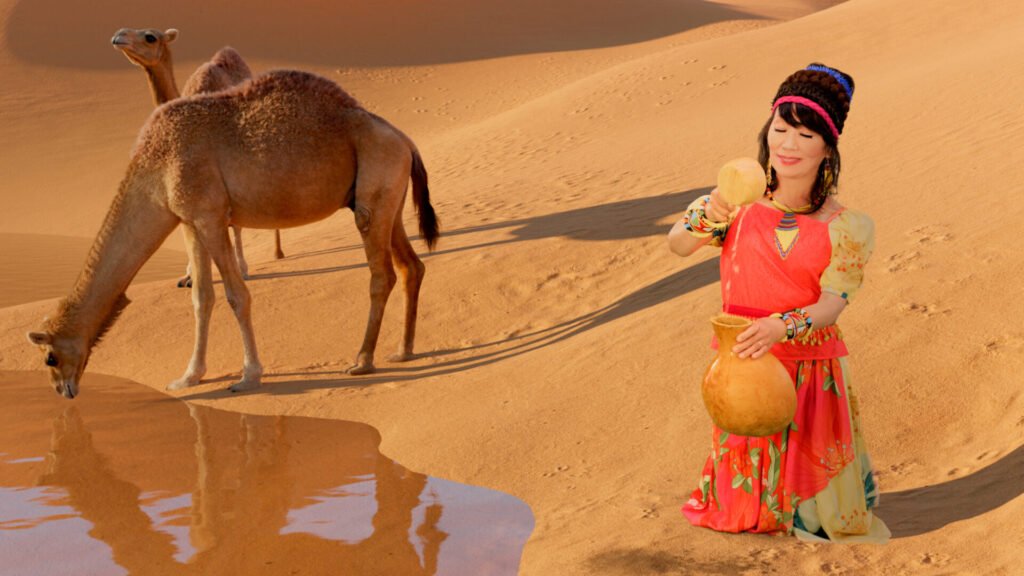 "I then had to take all of my visual concepts and organize the music video to support the dynamic music and lyrical material in an engaging and entertaining way," Wai Lana stated. I was afraid that if the arrangement wasn't quite right, it might come across as excessively somber, if not downright dismal. It seemed like I was piecing together a complex puzzle. I'm extremely excited with how everything came together, and I'm hopeful that in the end, we've created something that people will want to watch again and over again, as well as share widely."
With her Wai Lana Yoga TV series—the longest-running fitness series in public television history—Wai Lana is recognized with helping to pioneer the modern-day yoga movement. Wai Lana's sincere concern for others is evident in everything she creates, and this latest music video is no exception. She Speaks Sign Language is Wai Lana's first original song since the release of her Songs for the Soul album. Wai Lana's earlier Yoga Day releases, Namaste, Alive Forever, Oh My Sweet Lord, Colors, Beyond Time & Space, and Lay Me Down, are included in Songs for the Soul, which is available on most mainstream music streaming sites.
Wai Lana is a one-of-a-kind artist who can't be compared to anyone else. Her music videos are full with spiritual depth, wisdom, and inspiration. Wai Lana's distinct approach, which combines compelling music, lyrics, and cinematography, belongs to a genre all its own, which can be termed as "music of the heart."
Wai Lana is a mother of three, grandmother of six, song writer, author, and genuine advocate for helping people from all walks of life achieve inner peace and well-being. She is best known as the host of the internationally acclaimed Wai Lana Yoga television series, which has aired in the US and internationally for over three decades.
Wai Lana has created many yoga DVD series for individuals of all abilities, published recipe books, made children's yoga items, recorded music albums, issued a meditation kit, built a full line of yoga gear, and even has her own gluten-free snack line. In addition, she has a new Wai Lana Insights series and an Easy Meditation app.
KEEP IN TOUCH: