Will Wood release a new music video for the single 'White Noise'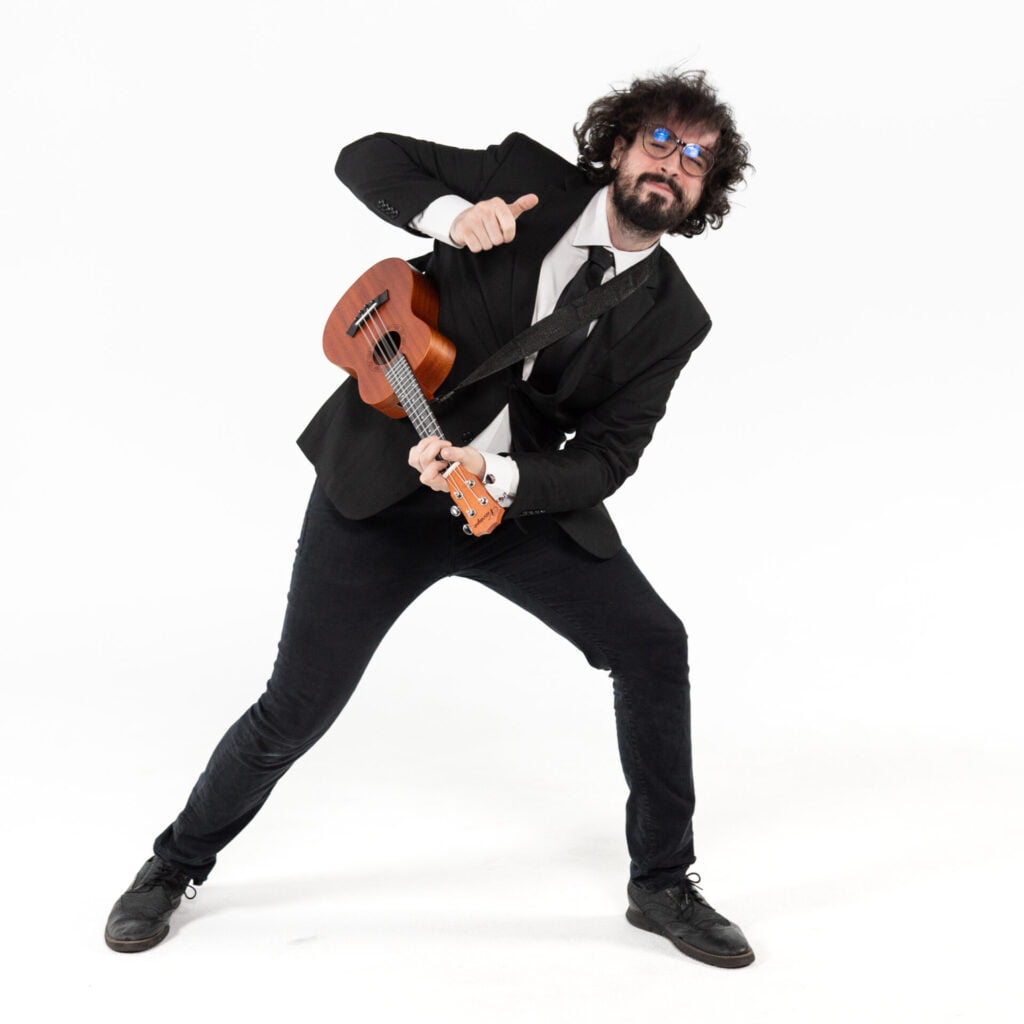 'Will Wood is riding high on the success of his previous albums "You Liked This (Okay, Computer!)" and "Cicada Days." The artist's new single, "White Noise," will be available on all streaming services on Friday, July 8th, along with a live-action music video and, if I make it, the album on July 29th.
Fans will be lulled into a soothing dreamlike sound of a tenor ukulele in this new tune, which will culminate in nothing less than a gigantic call and response with Will and an 18-person Bulgarian choir that he lead via zoom for the actual recording. Listeners are taken through a moment in time where we hear the artist have a conversation with his own inner voice, trying to look beyond the "White Noise" to see or hear what's really there, with lavish strings, experimental production, and Will Wood's dreamy vocals rising and falling along with cryptic yet moving lyrics.
What is it about White Noise that appeals to you? It's not supposed to be noticed. It is, nonetheless, present. The walls are an off-white tone. The fish tank's hum is audible. What is it about the things that surround us yet that we never seem to notice? Some report they are compelled to sleep with it on. It's packaged and sold by some businesses. In the summer, some folks sit by their pools, completely unaware that they are drowning. With the opening lyrics, Will Wood believes we need to peel away the white noise in order to discover what's underneath:
They paint the walls with colors that you're not meant to notice
Beiges and browns, off-whites and grayscales
Fluorescent lights to shine on the eggshell ground
Now you're lying face down
You blend into the background
Of white noise
Will explains,
"I guess White Noise is about meaning. Finding it in an inherently meaningless
existence. Or in the most meaningless parts of a meaningful one, depending on your
preferred level of nihilism. Or about how the meaning of a thing is not the thing itself,
but some essence that follows its existence. No event, experience, object, gesture, has
meaning unless you find meaning in it; it's all just white noise, and the beauty of the
world is in the silence beneath it. I think the fact that I myself sometimes sort of struggle
to understand the song, or at least explain it, might be the point. This is one of those
songs that just kind of happened. I remember sitting in my old apartment watching
what my perma-fried eyes did (too much acid in college) with the textures of the
rental-safe off-white walls and the popcorn ceiling, my head exploding with tinnitus and
the droning of a nearby fish tank. Some weird, aching emptiness was gnawing at me,
and it felt like it was embedded in these featureless sights and sounds.
I was new to the ukulele. Piano's such a dramatic instrument. Huge and made of
out metal, wood, and bits of dead elephant. Whereas the tenor ukulele isn't even as
bombastic as an acoustic guitar. It's an unassuming instrument with no great ambition.
The song couldn't have come out on a different instrument. But I think art sometimes
needs to show you the opposite of something in order to really show you The
Something, so while the song has the humble whimsy of the ukulele, it also shows off.
This is my first time arranging a full string section alongside a full sixteen-voice choir,
the latter of which I directed online via a zoom call to Bulgaria. It was a trip. I think, or
hope anyway, that grandiosity at the climax, especially coupled with the lyrics "Does it
cure cancer? Yes, it cures cancer!" gets whatever the point is across. Maybe
pointlessness is important. I don't know, but this song felt really important to me,
maybe just because of where I was at in my life when I wrote it, and how it shows how
much I've changed over the past couple years alone."
Will Wood is a singer-songwriter from the United States who is recognized for his ever-changing style and enigmatic public image. Wood has released a number of singles as well as three studio albums: Everything Is A Lot in 2015, Self-Ish (stylized as SELF-iSH) in 2016, The Normal Album in 2020, and In Case I Make It in the summer of 2022.
Little is known about the real Will Wood, and his public image has been rife with bizarre stories, misinformation, and misunderstandings. Wood has a personal and ideological dislike for all types of social media and its culture, and he is not shy about expressing his feelings. Unlike many artists in this period, Wood is outspoken about the fact that he doesn't have any social media accounts, publicly rejecting the way artists are expected to advertise themselves.
Wood has always been upfront about his past issues with drugs and mental illness, having sought rehab early in his career and later been diagnosed with Bipolar disorder, despite his somewhat reclusive and secretive character. "I've grown a lot better," Wood says of donating a percentage of his earnings to mental health nonprofits like the Brain and Behavior Research Foundation. I'd like to do something to assist others in getting there."
KEEP IN TOUCH:
FACEBOOK | INSTAGRAM | SPOTIFY | BANDCAMP