New York City-based power trio Heavy riffs and otherworldly soundscapes that defy time and tempo are nothing new to Grandpa Jack. Grandpa Jack's self-titled debut record is a heavy-handed take on psychedelic rock that explores the deeper parts of the soul. It features primal grooves, fuzzed-out guitars, and a thundering low end.
Grandpa Jack is Jonathan Strom — Vocals / Guitar Matt C. White, vocals and drums Bassist Jared Schapker
The first single from Brooklyn's Grandpa Jack's new album Grits is titled "Once Bitten." "Once Bitten," which has upbeat vocals and a powerful drum beat, is about realizing when someone in your life has bad intentions. The album was created over the course of a week at Saugerties, New York's Sonder House recording studio. It contains many of the same heavy riffs, fuzzed-out tones, and melancholy lyrics that the band's followers have come to love since the group's inception in 2016.
On June 23, the group will release the lead single from the album, "Once Bitten." "Once Bitten," a song with upbeat vocals and a powerful drum beat, is about knowing when someone in your life has bad intentions. Check out the lead single "Once Bitten" and the exclusive interview below:
1. Can you tell us a bit about where you come from and how you got started?
GRANDPA JACK: We all first met in our practice space when we were playing in different bands. Matt was playing guitar in a different band (Dead Seconds) and Johnny and Jared were in a band called Captain Wizard. After Captain Wizard's drummer left, we needed a drummer, so Matt offered to give it a shot. That's pretty much how Grandpa Jack got its start.
2. Did you have any formal training or are you self-taught?
GRANDPA JACK: We are all self-taught. We've kind of just been winging it our whole lives.
3. Who were your first and strongest musical influences and why the name 'GRANDPA JACK'?
GRANDPA JACK: We all have a pretty eclectic mix of influences. We all share a love of classic rock and funk. Matt's really into 90's alt stuff, Jared loves funkadelic, and Johnny is a Zappa head. Somehow, where all our musical interests intersect is the Grandpa Jack sound.
In terms of the "Grandpa Jack" name, we wanted a name that would be different in our music scene. A lot of "stoner" band names feel a little cliche (bong, lord, weed, dope, wizard, etc.)  and we wanted something to stand out.
4. What do you feel are the key elements in your music that should resonate with listeners, and how would you personally describe your sound?
GRANDPA JACK: We hope that the vocals and musical dynamics resonate with listeners. Our sound is a familiar, fuzzy tone with ominous vocals and weird time changes and time signatures. We think of ourselves as heavy psychedelic rock.
6. What's your view on the role and function of music as political, cultural, spiritual, and/or social vehicles – and do you try and affront any of these themes in your work, or are you purely interested in music as an expression of technical artistry, personal narrative and entertainment?
GRANDPA JACK:
Music is god. We used to joke that we aren't going to band practice, we are going to church. We don't really have any political aspirations with our music and I'm not sure we would change anyone's minds on the current state of affairs anyway, but there definitely is some social commentary in there. Everyone in the band just mostly needs musical expression to feel fulfilled.
7. Do you feel that your music is giving you back just as much fulfillment as the amount of work you are putting into it, or are you expecting something more, or different in the future?
GRANDPA JACK:
I think we all want the same thing out of Grandpa Jack. The hope is that we can have our art fund itself. Like the act of creation gives us the ability to pay for that creation (studio time, mixing costs etc).
8. Could you describe your creative processes? How do you usually start, and go about shaping ideas into a completed song? Do you usually start with a tune, a beat, or a narrative in your head? And do you collaborate with others in this process?
GRANDPA JACK:
Almost all of our songs start as just jamming on ideas during practice. We then build from there. Like, one part feels like a verse, another a chorus. We sort of just talk this stuff out until we have the full musical piece and then we collaborate on vocals and lyrics. This new record 'Grits' was entirely collaborative as far as lyrics go, which had its challenges, but we love the results.
9. What has been the most difficult thing you've had to endure in your life or music career so far?
GRANDPA JACK:
I'm not sure that there's any one event. Lots of ups and downs with shows, etc., but I think the toughest part is probably that the three of us are gear nerds. Who knows how many countless thousands have been spent in search of the perfect fuzz tone, cymbal sound, or effect pedal.
10. On the contrary, what would you consider a successful, proud or significant point in your life or music career so far? GRANDPA JACK: I think the record release show for 'Grits' might be one of the coolest moments. Just to play a show with some of our best band friends (Certain Death and Smock) was awesome in itself, but also represented the culmination of over a year's worth of writing and recording. We are all very proud of how weird and unique 'Grits' is and it was really cool to be able to debut it live.
KEEP IN TOUCH:
FACEBOOK | INSTAGRAM | TWITTER | SPOTIFY | BANDCAMP | WEBSITE | YOUTUBE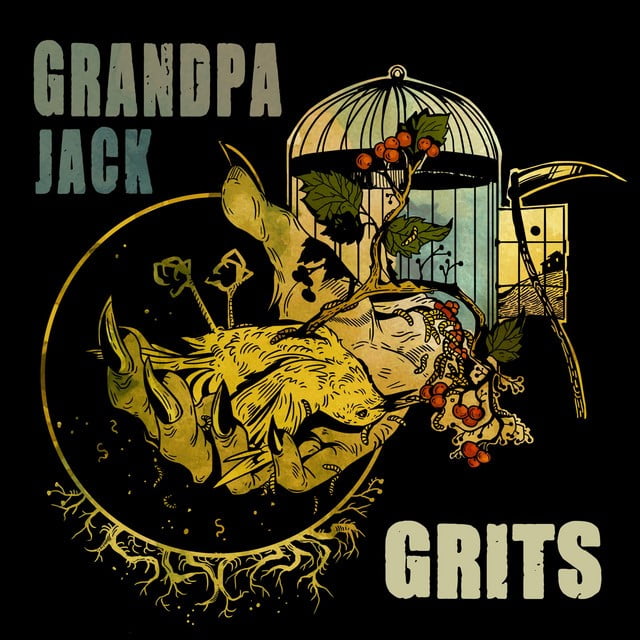 Photo credits: Danielle Otrakji