For The Broken Hearted Traveler is the second album by singer-songwriter Mollie Rainwater. It features a lead acoustic guitar and thoughtful lyrics throughout. There are some songs that feature piano and strings as well! Her songs are more folk, mellow, and acoustic. Check out the latest official video & the exclusive interview below: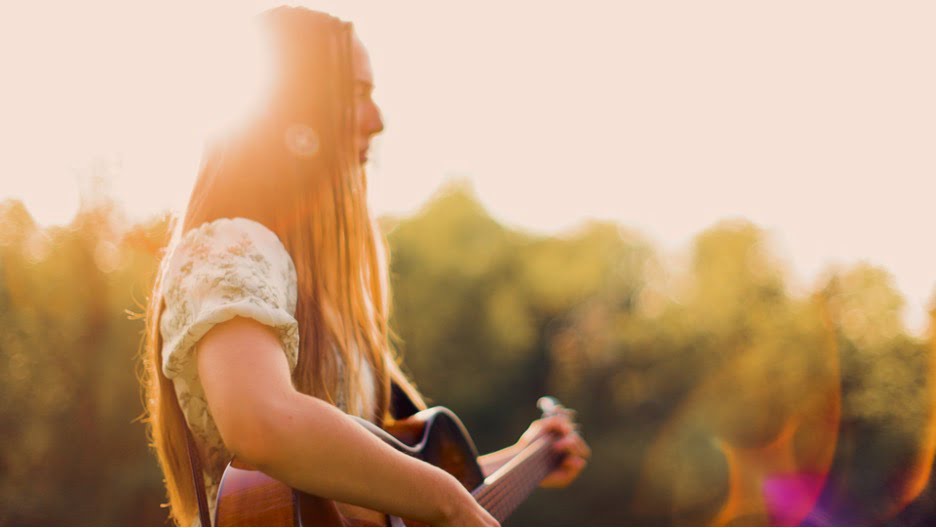 1. Can you tell us a bit about where you come from and how you got started?
MOLLIE RAINWATER: I've always had a love for music. Growing up I would always be experimenting with any musical instrument that I had access to. There is such a joy that comes from creating something out of nothing…and all along that has been my motivator.
2. Did you have any formal training or are you self-taught?
MOLLIE RAINWATER: The majority of my musicianship has been self-taught. I grew up taking piano lessons, so I have a wide understanding of music theory, which helps when creating songs. My songwriting however is completely self-taught!
3. Who were your first and strongest musical influences and why?
MOLLIE RAINWATER: I love the way acoustic music sounds. When I discovered 'Passenger' I instantly knew that I had found a sound I wanted to experiment with. The lead guitarist plays beautifully and I love the finger style picking that is highlighted in many of their songs. I also love 'Canyon City' and 'The Beatles'.
4. What do you feel are the key elements in your music that should resonate with listeners, and how would you personally describe your sound?
MOLLIE RAINWATER: As I previously said, I love acoustic sounds. I try my hardest to allow my music to feel smooth and simple. There is beauty in simplicity. My lyrics are also very thought out and tend to convey specific emotions. Each lyric has a specific meaning. I want lyrics to be open-ended enough that they can be open to interpretation.
6. What's your view on the role and function of music as political, cultural, spiritual, and/or social vehicles – and do you try and affront any of these themes in your work, or are you purely interested in music as an expression of technical artistry, personal narrative and entertainment?
MOLLIE RAINWATER:
I believe that music is a way of expressing emotion, whether that emotion be deeply provoking or lighthearted and surface level. As a portfolio builds, it can morph into different phases and areas, just like life. For me specifically, I hope that my music is always evolving and growing with me and my creative walk.
7. Do you feel that your music is giving you back just as much fulfilment as the amount of work you are putting into it, or are you expecting something more, or different in the future?
MOLLIE RAINWATER:
My end goal is to create something for somebody who needs it. If one of my songs had only one affect on a single person, I would consider it a blessing. Music is a language that lends itself to be a coping mechanism. I hope that my lyrics make a difference and affect listeners in a fulfilling way.
8. Could you describe your creative processes? How do usually start, and go about shaping ideas into a completed song? Do you usually start with a tune, a beat, or a narrative in your head?
MOLLIE RAINWATER:
My creative process is hardly ever the same. Sometimes I create an idea in my head and jot it down on paper. Other times I start strictly with a chord pattern. Sometimes I hear a melody in my head and quickly pull out my phone to record it. If the process of creating was tied down to a specific way of doing things, I think I could get tired of it. But there is so much variety and room for flexibility that every song has its own process and its own story.
9. What has been the most difficult thing you've had to endure in your life or music career so far?
MOLLIE RAINWATER: Whenever a person embarks on a journey to create, there will be bumps in the road. People have and will continue to doubt me. The world can be harsh on musicians trying to make something of themselves, but the world can also be forgiving. That is why I continue to create and build songs.
10. On the contrary, what would you consider a successful, proud or significant point in your life or music career so far?
MOLLIE RAINWATER: There have been many moments that fans have reached out and let me know how much one of my songs means to them. That feeling is what I strive for. Making a difference with my music is what I want, and seeing that happen right in front of my eyes is such a beautiful thing.
KEEP IN TOUCH:
FACEBOOK | INSTAGRAM | TWITTER | SPOTIFY | YOUTUBE