Anja Björk, a pop artist from Umeå, Sweden, released her debut single, "What Am I To Do," in 2017. She continues with more singles before releasing her debut EP in 2023. She is motivated to inspire others by sharing her experiences of overcoming obstacles such as an international move and a former lover because doing so can help one become a better person.
Anja Björk, a Swedish pop singer, mother, pharmacy technician, and choir director, wrote the Norwegian city-themed breakup song Last Day In Oslo. It can occasionally be just as difficult to leave a place as to leave a lover. Check out the song and the exclusive interview below:
1. Can you tell us a bit about where you come from and how it all got started?
ANJA BJÖRK: I am from Umeå that is in northern Sweden we call it the capital of the north a medium big city (in Sweden measures anyway). I have always loved music and to sing but have suffered from stage fright and the economic insecureness of being a musician has hold me back. I went to a folkhighschool when I was 25 and that was the starting shot for my music carrier.
2. Did you have any formal training or are you self-taught?
ANJA BJÖRK: I had a lot of training but I wouldn't consider me good at any instrument anyway…well maybe at singing then. I think my strength is that I have always had a big imagination and since I was a kid liked to come up with little melodies.
3. Who were your first and strongest musical influences and why the name 'ANJA BJÖRK'?
ANJA BJÖRK: I think the person biggest influence that I also have had a lot of inspiration from was Salem al Fakir. His first album was really something special and exactly my taste. Happy, melodic, great lyrics and instrumentals is to die for.
My first thought was to have a stage name like miss red, because red is a recurring color for me as an artist. But my ex thought it sounded to political. Anja Björk is very close to my own name wich is Anja Björklund so I just shorten it wich I think sounded better.
4. What do you feel are the key elements in your music that should resonate with listeners, and how would you personally describe your sound?
ANJA BJÖRK: I think my music is melodic and alive in a way that it can change quite much just in one song, I hope that that's fun to listen to. I think it's really hard to describe my music. My music is catchy but have it has sadness in the lyrics often.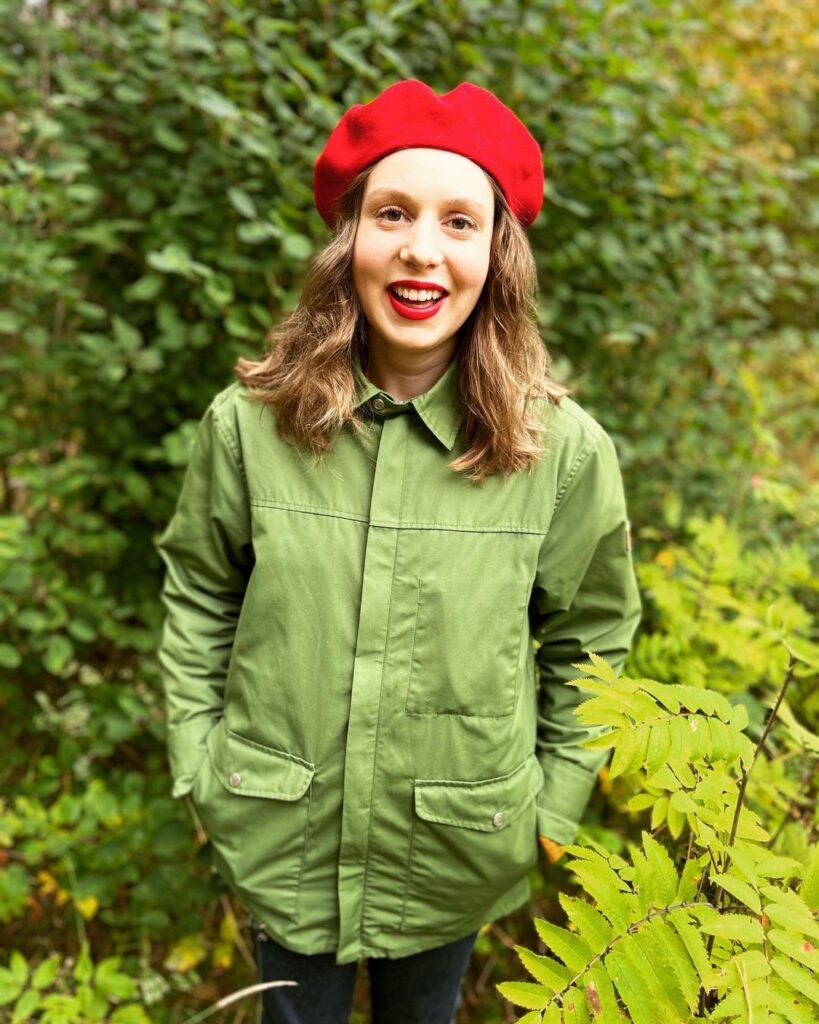 6. What's your view on the role and function of music as political, cultural, spiritual, and/or social vehicles – and do you try and affront any of these themes in your work, or are you purely interested in music as an expression of technical artistry, personal narrative and entertainment?
ANJA BJÖRK:
Sure all of those things are important and if music can help in any of those areas that is amazing. I mostly wright for my own sake as an journal or to process feelings. But By being open about difficult things in life I hope to reduce the stigma around those and hope that those that hear can easier talk or pay attention to their feelings. My latest singel was released just during the election in Sweden, and I think for us who is mourns that the second largest party in Sweden is one with nazist and racist roots the song can give a little comfort.
7. Do you feel that your music is giving you back just as much fulfilment as the amount of work you are putting into it, or are you expecting something more, or different in the future?
ANJA BJÖRK:
Not really right now must of all it costs quite a bit especially to record music and everything around. It's a big dream that my music would generate a bigger audience and eventually be something that I could live on. Right now it's a important hobby for me.
8. Could you describe your creative processes? How do usually start, and go about shaping ideas into a completed song? Do you usually start with a tune, a beat, or a narrative in your head? And do you collaborate with others in this process?
ANJA BJÖRK:
Usually it comes a melody or a lyrics to me spontaneously. Often when I'm out biking. (I bike everyday) I usually sing when I'm biking so sometimes something good things comes up, then I record it on my phone. The few opportunities I have time to sit and make music I can sit by a piano or just make up stuff in my head. Recently I have experience with different chords usually ones that I don't now the name of and then music can come from those harmonies. I usually make music by myself but I have done a song with a friend, that was fun and something I would like to do more.
9. What has been the most difficult thing you've had to endure in your life or music career so far?
ANJA BJÖRK: I think the hardest thing I have went through was the break up that I have written about in my song Last Day In Oslo. It was not only a breakup with a person but also a breakup with a life that I had built up. It was a really sad time but it has made me stronger and I realised the value of me making music and singing.
10. On the contrary, what would you consider a successful, proud or significant point in your life or music career so far?
ANJA BJÖRK: I think moving to Umeå again finding a home and building a family was definitely an amazing journey even though it have had quite big bumpes on the way. The latest release Last Day In Oslo was also very fun to be releasing and I am super grateful for all the great response.
KEEP IN TOUCH:
Photo credits: Julia Grundström