What results when two-thirds of the Boston post-punk band Native Tongue split up, aged separately for more than 30 years, then reunited, added some new technology, thoroughly mixed, and served? In that case, you get Dream of a Man in a Top Hat if the guitarist and drummer are involved.
The musical duo Dream of a Man in a Top Hat is made up of Lee Leffler (guitars, keyboards, vocals, lyrics) and Michael Frackleton (drums, bass, percussion, keyboards, vocals, lyrics). The band may now rehearse in two different homes, type lyrics into phones instead of writing them down on scraps of paper, use electronic drums instead of acoustic ones, and no longer perform at the Rat or the Channel. But one thing has remained the same over time. The sounds emanating from these two share the same uncompromising sensibility. The rest of us must either change or ship out, as the music blogger mp3 hugger so eloquently put it: "They have conspired to go about things in the only way they see possible."
Bloggers and curators praised Blunt Instrumentals' debut album, the six-song EP that was released in the summer of 2020, calling it cool, grooving, swaggering, psychedelic, experimental, wild, infectious, seductive, chaotic, and one-of-a-kind.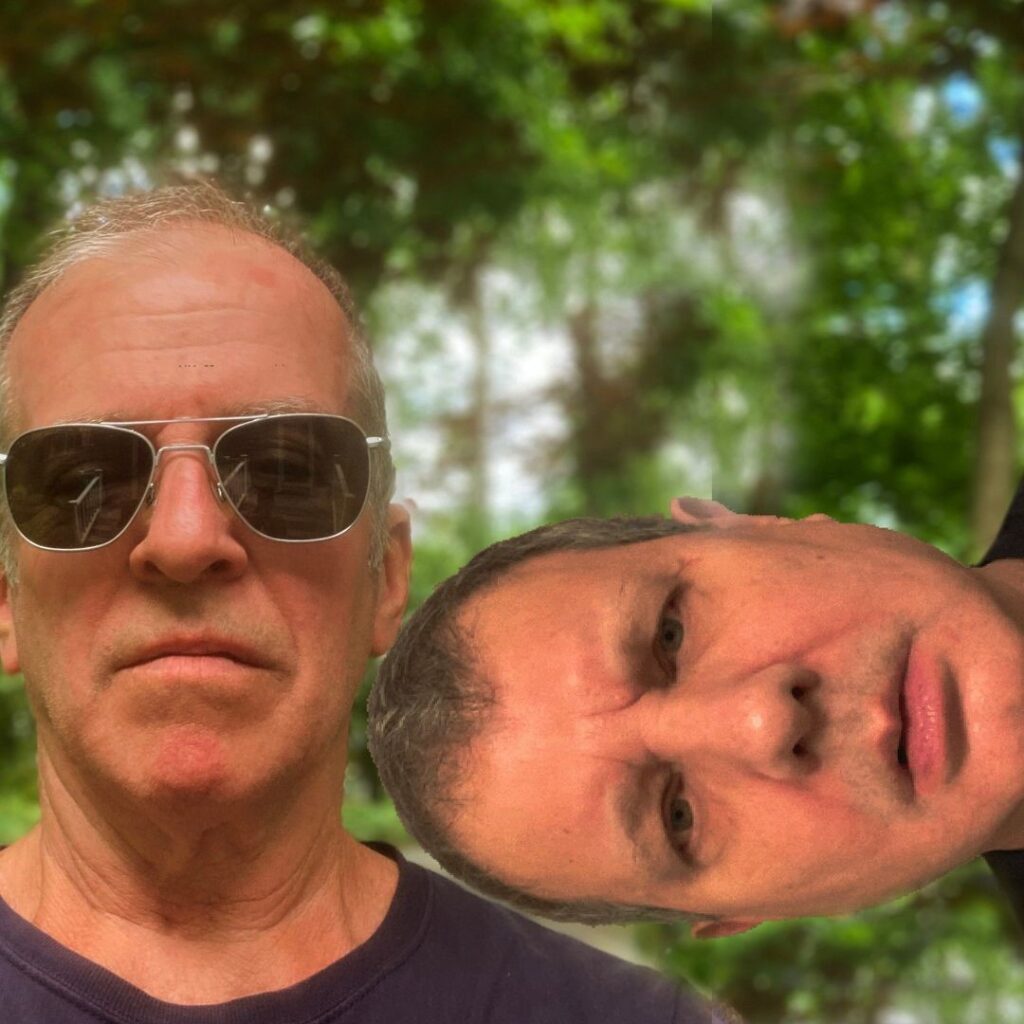 Dream of a Man in a Top Hat in the summer of 2021 Sudden Return Of DOAMIATH, their latest full-length album, surprised and delighted critics, bloggers, and playlisters alike by going beyond instrumentals and incorporating their own distinctive vocals. Fans of psychedelic music will have an advantage, but this stuff goes far beyond anything I've heard in that genre, said Divide and Conquer music magazine in its review. The Hampton Grease Band's Music To Eat or Beefheart's Trout Mask Replica come to mind as unpolished classics that are similar to this wild and original album.
Unfamiliar Streets, All Time Is Borrowed Time, Cold Hard Dirt, and the most recent single, Eggshell Minefield, were all recently released by Dream of a Man in a Top Hat. Check out their latest single and the exclusive interview below:
1. Can you tell us a bit about where you all come from and how it all got started?
DREAM OF A MAN IN A TOP HAT:
Michael: I live in Georgetown which is on Boston's North Shore, but when I met Lee we were living just outside of Boston and were lucky to be a part of the lively local music scene with Native Tongue in the early 80s. After NT disbanded we mostly lost touch until Lee talked me into playing again about two and a half years ago.
Lee: I also live on Boston's North Shore. After many years in the 9 to 5 world I was itching to get back to playing music and knew Michael was the right guy to write new songs with.
2. Did you guys have any formal training or are you self-taught?
DREAM OF A MAN IN A TOP HAT:
Michael: I took drum lessons in my early teens. After that I played drums in rock and disco cover bands, where I learned to sing while playing drums. I taught myself a little bass and keyboards only over the past two years inspired by the freedom of this project and I think it's obvious nobody ever taught me how to sing.
Lee: I'm mostly self taught though I did attend Berklee College of Music for a bit.
3. Who were your first and strongest musical influences and why the name'DREAM OF A MAN IN A TOP HAT'?
DREAM OF A MAN IN A TOP HAT:
Michael: The Beatles were the first, but the list is a long one from The Association to Parliament to Bob Marley to Zeppelin. The surreal name of the band was Lee's idea but I immediately agreed. Maybe he will tell you why he chose it.
Lee: My influences are pretty closely aligned with Michael's but I'd add that the early 80's post-punk influence is pretty ingrained in both of us. The band name just kind of intrigued me. Are you dreaming of a man in a top hat or is a man in a top hat having a dream?
4. What do you feel are the key elements in your music that should resonate with listeners, and how would you personally describe your sound?
DREAM OF A MAN IN A TOP HAT:
Michael: I hope it sounds like we are having a good time because we are. I hope the unexpected elements cause a smile. I sometimes think we sound like a band from a different dimension.
Lee: I want all my past musical influences, from my earliest days till now, to come out in DOAMIATH's music, regardless of whether it's fashionable at the moment or makes good marketing sense. Guitars aren't fashionable these days but there will always be a lot of guitar in our music. And it'll be right up front most of the time.
6. What's your view on the role and function of music as political, cultural, spiritual, and/or social vehicles – and do you try and affront any of these themes in your work, or are you purely interested in music as an expression of technical artistry, personal narrative and entertainment?
DREAM OF A MAN IN A TOP HAT:
Michael: Well, Lee wrote Lowlife as a reaction to the attack on the Capitol and I just gave Lee a new vocal about climate change but usually I write really broadly about the human condition, relationship issues or whatever idea goes through my head. I don't take myself too seriously. And if listeners get their own meaning from the lyrics that's great too. But I suppose in the end I create music exclusively for my own entertainment.
Lee: I do think the bulk of our songs are introspective and deal with the human condition, mainly due to Michael's weird little haiku-like lyrics.
7. Do you feel that your music is giving you back just as much fulfillment as the amount of work you are putting into it, or are you expecting something more, or different in the future?
DREAM OF A MAN IN A TOP HAT: Michael: The band has grown faster than I expected so far. There's a thrill like no other that you get playing live but I also appreciate connecting with each listener via their comments and likes.
Lee: This is pretty fulfilling at the moment and I think with every release our audience grows. As a duo we'd need to gather some sympathetic musicians to complete a live band. But we're too busy putting out music to think about it right now.
8. Could you describe your creative processes? How do usually start, and go about shaping ideas into a completed song? Do you usually start with a tune, a beat, or a narrative in your head? And do you collaborate with others in this process?
DREAM OF A MAN IN A TOP HAT:
Michael: For me,the most important thing about capturing ideas is to be prepared to catch them. You need a setup, instruments and mics ready-then you have a chance. If not, it's just a fleeting thought you had. We have written songs in various ways but our best stuff starts with a rough arrangement of guitar and keyboards from Lee to which I add drums and bass. Vocals are usually added on top last. The lyrics are either written on the fly or I use stuff I have jotted down. Some of the words were written 40 years ago! And they are not that different from what I write now. Guess I haven't learned much in 40 years.
Lee: Lately I've been hearing ideas in my head and then playing them on guitar. Most of the time though I'm just bashing on the guitar late at night and recording whatever sounds good to me. Then I may send it to Michael for his thoughts or add a vocal or keyboard part first.
9. What has been the most difficult thing you've had to endure in your life or music career so far?
DREAM OF A MAN IN A TOP HAT:
Michael: Let's stick to music: listening to my voice. That's why I like harmonies so much. They are fun to sing and it helps sweeten the sound of my voice a bit.
Lee: When Michael sends me his vocals they are so loaded up with effects that I can't really judge them until I turn all the effects off. He truly hates the sound of his voice and attempts to disguise it at every turn. My voice is much worse but I happen to like it.
10. On the contrary, what would you consider a successful, proud or significant point in your life or music career so far?
DREAM OF A MAN IN A TOP HAT:
Michael: Getting back to playing drums and learning the skills needed to create and record music after a nearly 40 year break was a very significant point in my music career. It brought a part of me back to life – in a different musical era. I am pretty happy with what we have done thus far and hope to continue until I cannot.
Lee: Yes, just getting back to the raw joy of music after so many years makes me feel like I've escaped the penal colony. I'm running for the hills.
KEEP IN TOUCH:
FACEBOOK | INSTAGRAM | TWITTER | SPOTIFY | BANDCAMP | WEBSITE | YOUTUBE